We've officially left our NYC life and began to settle into our life upstate! We've made some great progress in some areas, and in others we've sort of avoided working on as they involve much bigger projects (but you'll see more of that later throughout the slides).
Overall I'm 50/50 on the progress, but that's really more of my own neuroses than anything, as our little house needs a ton of love that only time (and really, money) can make happen, so I just need a little patience…and more YouTube tutorials. BUT YOU KNOW. Consequently, I've left a lot of the less chic-chic pics up because, you know, it's our house…warts and all.
Let me know what you think in the comments!
Exterior
Before
Current
Yeah, so not much has changed so far, other than our smart home additions and removing the redundant house number signs (why were there two?!). Also, winter is on the way so our focus has really been making sure that the interior of our home was good to go since the exterior passed inspection with ease.
Plans
Replace damaged pieces of siding
Paint exterior
Rip out front bush (it's not in very good condition since it's been peed on by every dog in the neighborhood and seems to be housing litter)
Install flower boxes
Install shutters
Redo front steps
Paint front door
Add door knocker
Install peephole (seriously people? How do you not have a peephole?)
Install light fixtures on front door frame
Video doorbell maybe possibly
Replace windows
Upstairs addition someday
Basement
There's no before picture since we really have no plans to do much with it. The clearance is probably 6′ at best so we really can't finish either the basement or the attached sub-basement/root cellar type place. But for those that love a good appliance binge, we replaced the water heater with a tankless model (Westinghouse) and had to have a new HE furnace (Ruud AFUE 96%) installed. So far both are pretty amazing!
Pics below. The root cellar/side basement is also where I'm stashing my ever-growing collection of paint supplies.
Current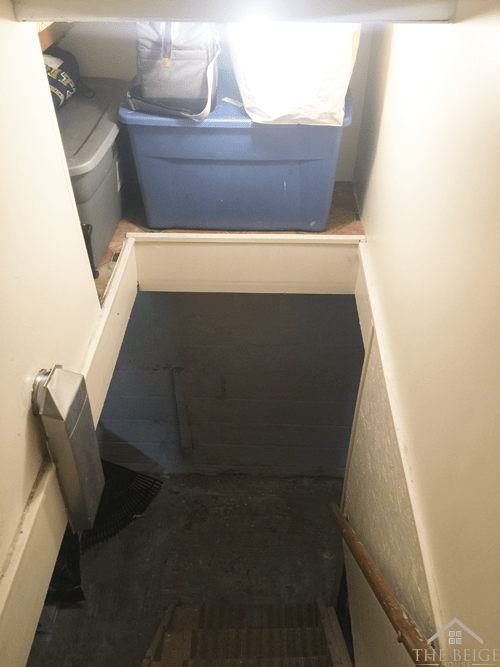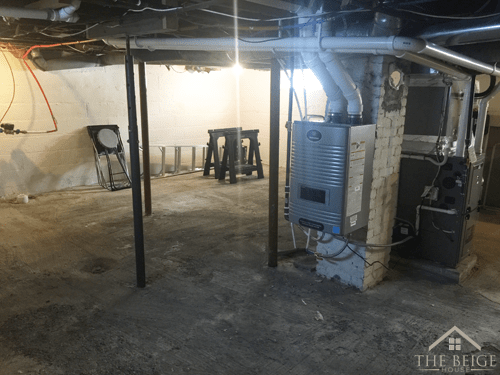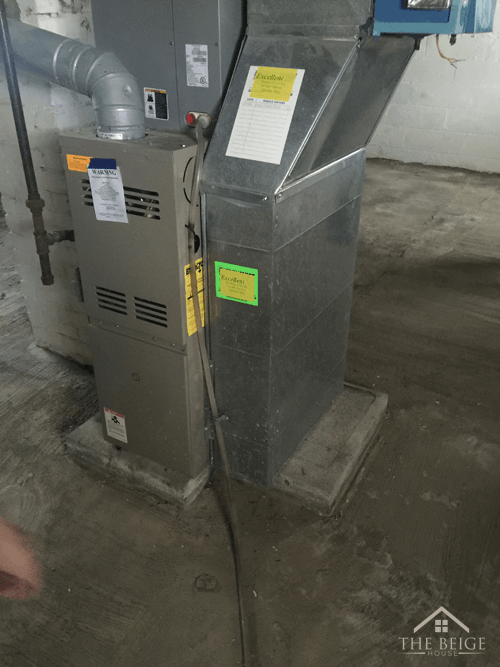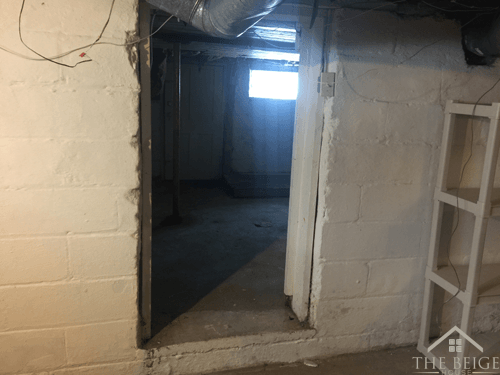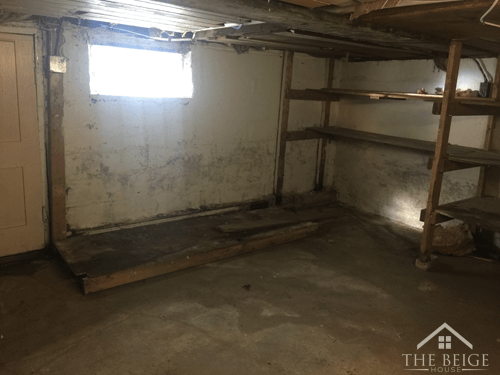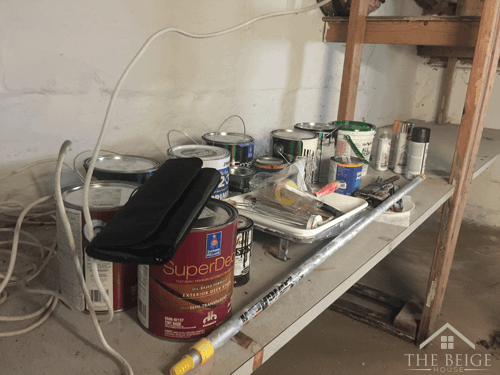 Front Porch
Before
Current
Other than a good scrub down, we really haven't done much to the front porch, though the cats are VERY intrigued by the smells out there. Unfortunately, there aren't any outlets yet so my plans of string light bungalow will have to wait.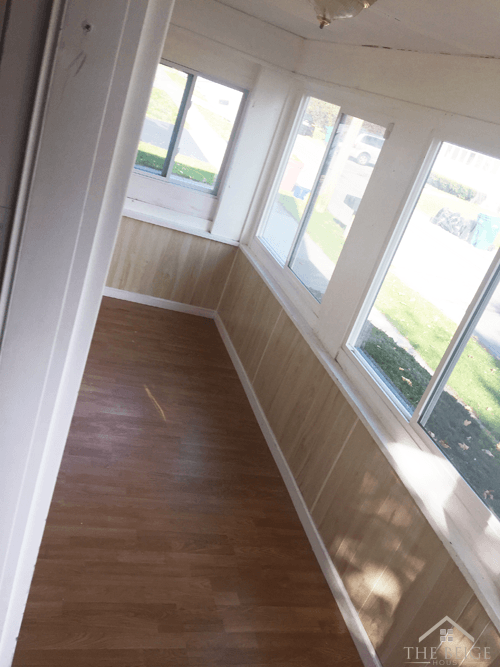 Plans
Install drapes
Have outlets installed
Add furniture
Hanging plants
Front Entrance
Okay, I don't have a "before" picture, but this nook had big mirrored sliding doors that we could NOT get back on their tracks, no matter how much we fiddled with them. Instead, we just took them out and are using one upstairs as our floor-length oversized mirror. We took out the brackets for the non-existent curtain rod and instead hung hooks. Our Ikea Lack 4×4 unit fits perfectly to house our umbrellas, hats, and other accessories.
Also, due to the narrow width of this, it's hard to get a full on shot, so forgive the angled pics.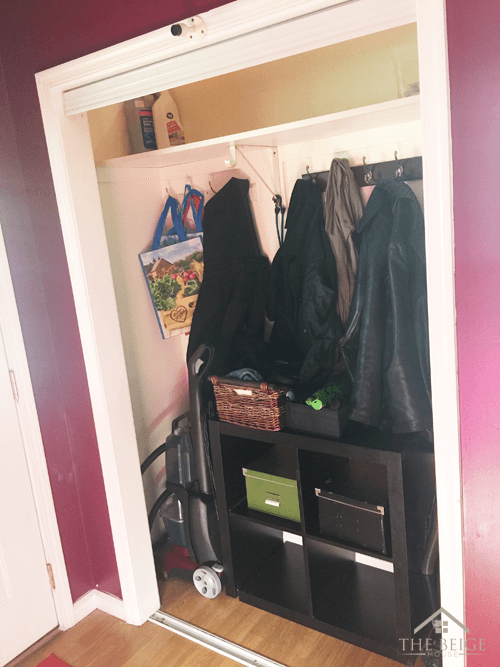 Plans
Not much will change here, except maybe a little re-organization. I'd like to hang a nice decorative mirror across from it because even though we use the side door more than this one, it'll be nice to do a quick hair check while putting on hats or coats before we leave.
Living Room
Before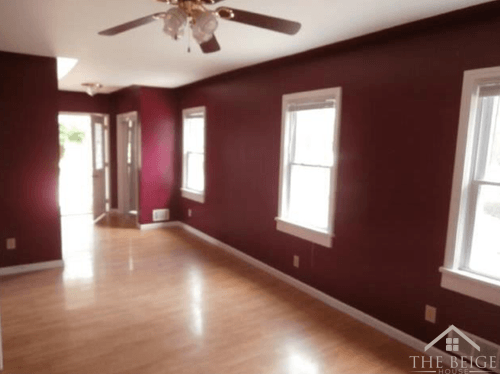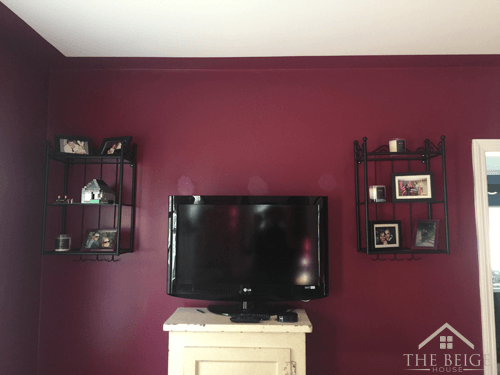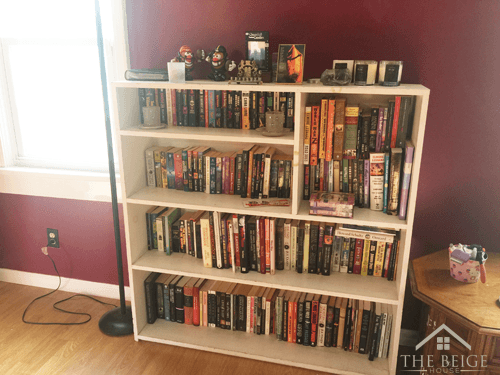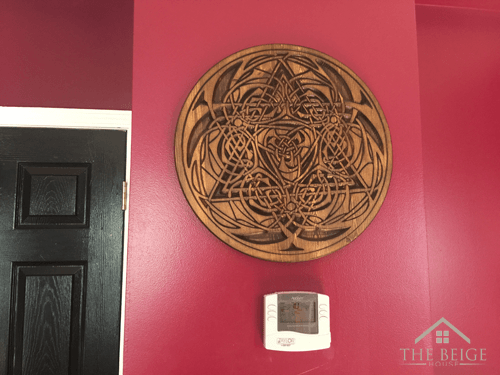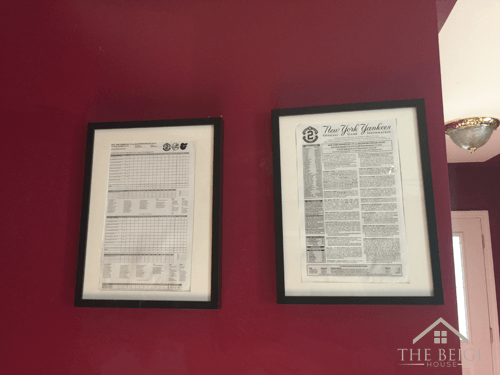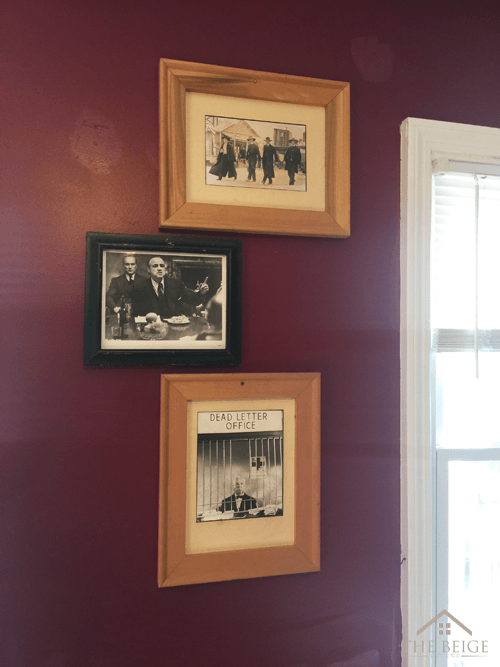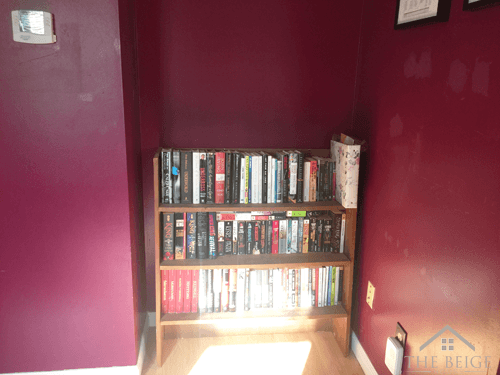 Yep, still no couch as we've been waiting for Black Friday deals, but we'll have one shortly. Overall we really liked the unique color of the living room so decided to keep it, though it's been a challenge to find the exact match to patch holes and dents, so we may need to do a repaint later on. I hadn't planned on painting the doors black downstairs, but they were in pretty bad shape so the black paint was able to hide the stains and crayon marks from the previous owner. There's also a little nook on the side of the room where our bookcase fits perfectly but may need to be upgraded if we keep up our book collecting habits.
Also happy to report that yes, the LEGO house made it safely.
Plans
Not much will really change structurally since essentially we're going to keep industrializing this room and keep the theme a bit "1800's smoking room" with the addition of leather recliners in front of the tv, and a little sitting area behind that of maybe a settee and 2 club chairs. Also some day I'll update the light fixtures, but it's not high on my list
Guest Room
Before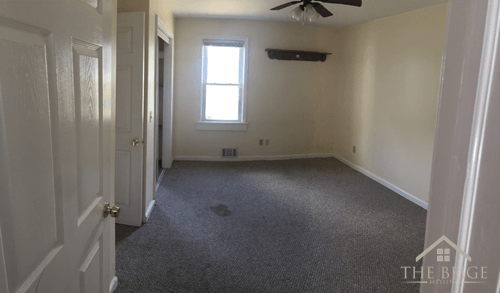 Current
Again, not much of a change since we don't have any guests planning on showing up anytime soon. I gave this room a fresh coat of paint and tried to attack that possessed piece of carpeting that looks like a stain. I swear, I need a priest to fully get rid of it but I've got to say that Lysol with Hydrogen Peroxide was the saving grace that helped so much. It's not even designed for carpeting, but since we really aren't committed to it I figured if Lysol destroyed the rug it would just be more reason to get rid of it. We used a carpet cleaner on it when we came up here a few weeks ago to clean but honestly, the Lysol did a much better job (thankfully, since it's way cheaper than carpet cleaning solution).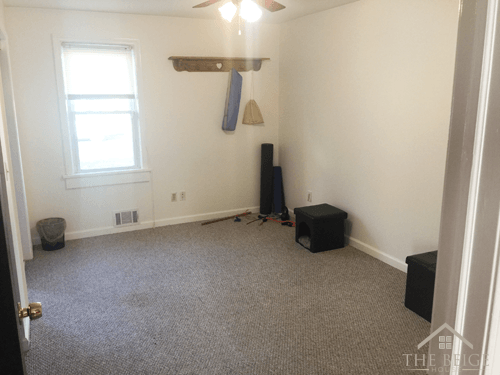 Plans
Move our bed down here once we get our new one
Move TV in here
That shelf? TBD.
Downstairs Bathroom
Before
Current

All in all this bathroom is in pretty good shape (I suspect the guest room was supposed to be the master bedroom since it's attached directly to this bathroom) so we don't really have any plans to do anything with it. We installed a new toilet seat (obvs), curtain rod, and IKEA clock that I got for .90 in their "as is" section.
Kitchen
Before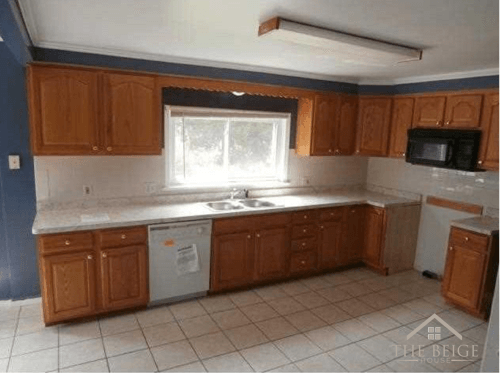 Current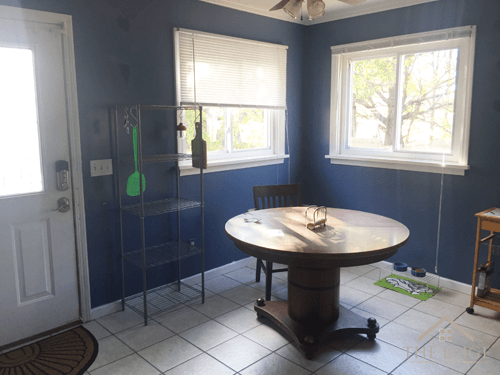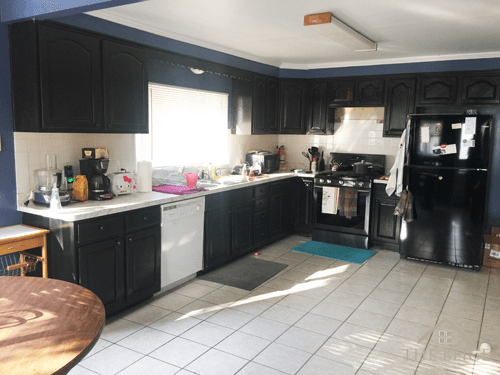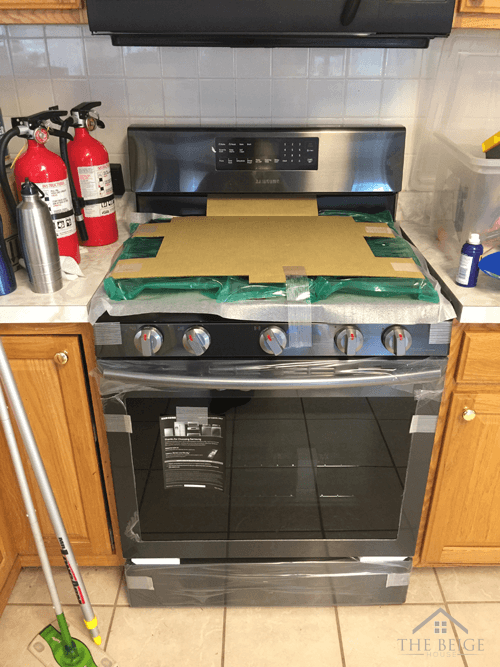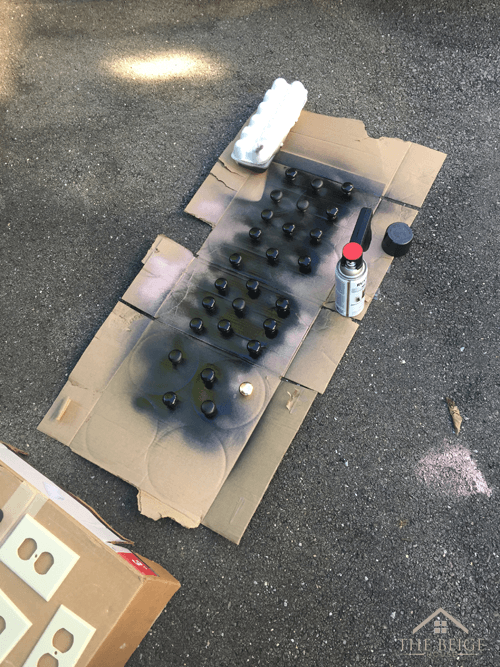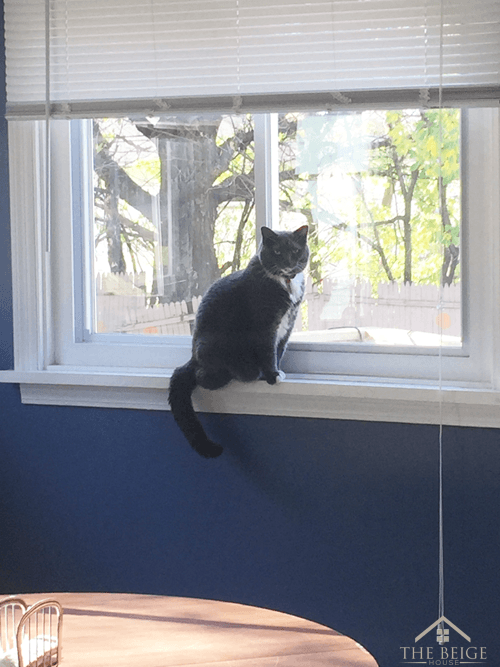 Once again, we were good with the paint color here (though, like the living room, our patch jobs are pretty obvious despite matching the color). I really wanted a dark wood/copper scheme to the kitchen, so I tried to stain the cabinets a dark Kona wood color…and failed. Maybe it was my sanding job or my timing at wiping off the excess stain, but the top cabinets just would not dry. I ended up scrapping the idea and just painted the bottom cabinets black (Tricolor Black by Sherwin Williams). The brass knobs were spray painted oil-rubbed bronze.
I originally planned to build our kitchen table myself, but when I saw the round table at Goodwill for $10 (yes, TEN dollars), I knew I wouldn't be able to beat that price. We also invested in a Samsung Black Stainless Convection Oven after having the gas line installed, had a water line run for the ice maker we added after purchasing the Whirlpool fridge (Mr. wanted a top freezer). So far the dishwasher that came with the house has been aces, so no plans to upgrade it until we need to.
We ended up ripping out the overhead microwave since its door wouldn't close completely, rendering it useless, but it's a blessing in disguise as now I can really focus on getting a badass copper range hood.
Plans
Add copper backsplash
Install range hood
Repaint top cabinets black
Paint table black (kinda like a Shaker style)
New light fixtures
Install new sink fixtures
Bring in chairs from living room and reupholster them
Laundry Room
Before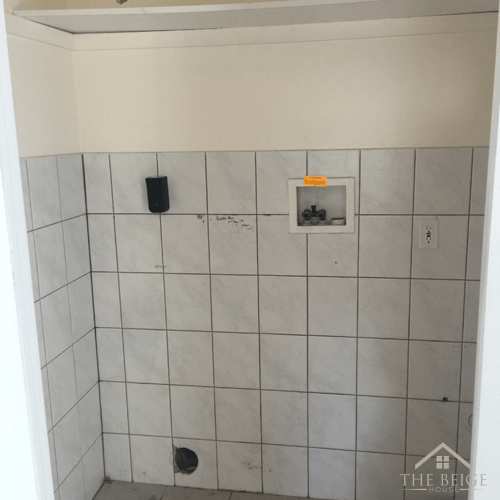 Current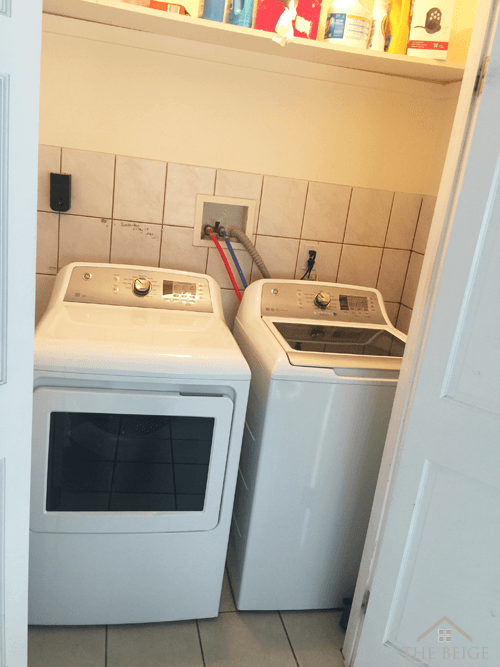 Okay, another difficult thing to shoot. This laundry nook/room/whatever is on the right side of the kitchen, directly opposite of the kitchen sink. We haven't done much to this since there isn't really much to do with it. We did have a gas line installed so we could get a gas dryer instead of electric. We ended up with a GE Energy Star dryer and have been very pleased. As for the washer, originally I wanted a Samsung washer that had a little tub in the top for pre-soaking….the same washer that ended up exploding a few times in homes (which Samsung wouldn't cover unless it was 30 days after purchase. Dafuq?). Luckily it ended up being discontinued before our delivery date, so we ended up just getting the matching GE washer which has been really great and easy to use, so it was a happy change.
Backyard/Back Deck
Before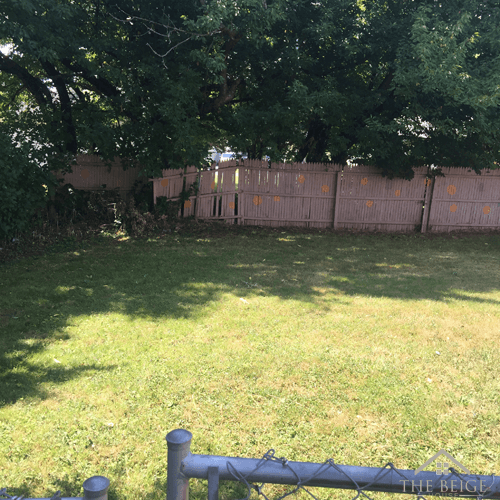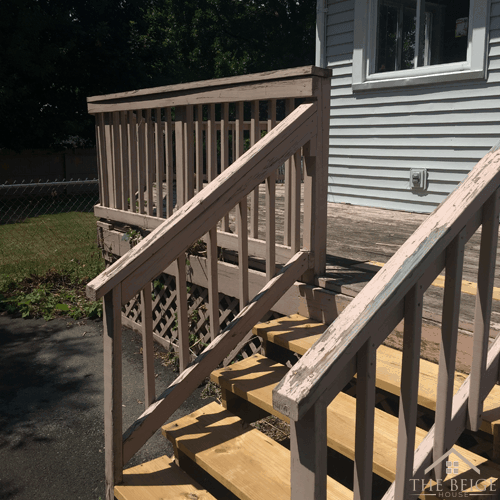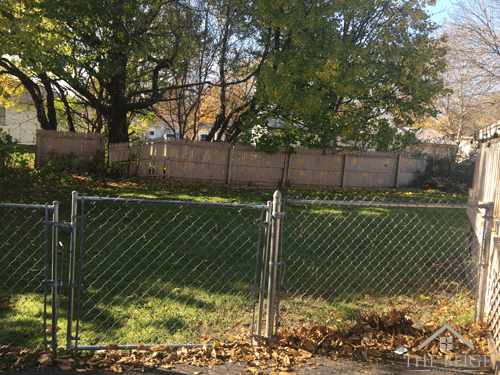 Current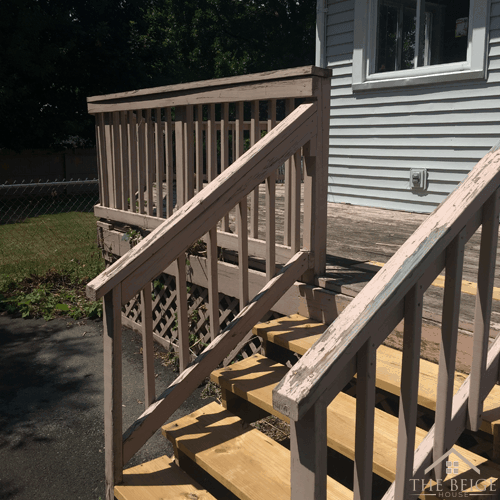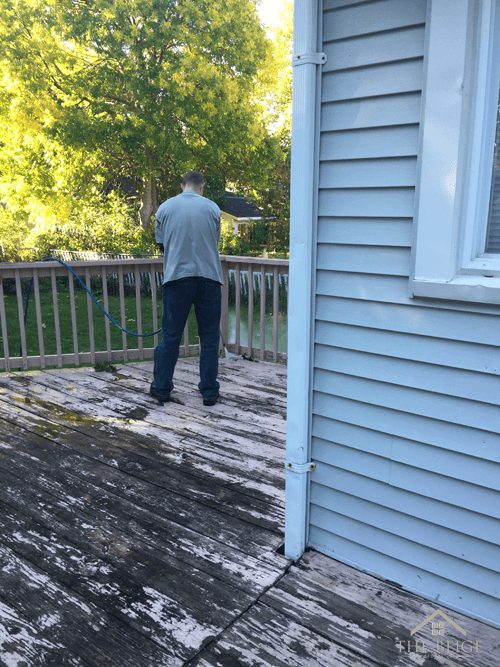 Again, not much has changed. We planned to stain the deck, but that pink paint just would NOT come off. We tried deck cleaner, hitting it with a power washer, and all we really found out was that this deck is in worse shape than we thought and will need some pros to come and repair it. The fence in the backyard will also need a pro, as it all seems to need ripped out and replaced (and also that tree coming into our property from the neighbors can be dealt with by someone that knows how to get around these things).
Plans
Replace and expand deck with trap door to basement
Add stairs from deck to backyard for future puppy
Add gate to stairs that have driveway access to prevent future puppy expeditions out of yard
Garage in back
Replace fence
Okay, that's our first floor and I am BEAT. Whew. 2nd floor coming up in the next post, stay tuned!
Ready for more? 1 Week In: Part 2