So, obviously, we've been in our house more than a week. 3 months, to be exact. Ooops.
But I realized I never completed the series about the changes we've made to our house after 1 week. Double Oops.
I am not a quitter, though! So let's talk about the upstairs renovations that happened in November:
Staircase
Before
Current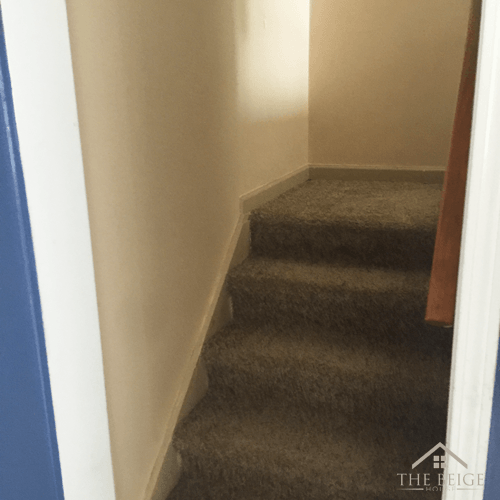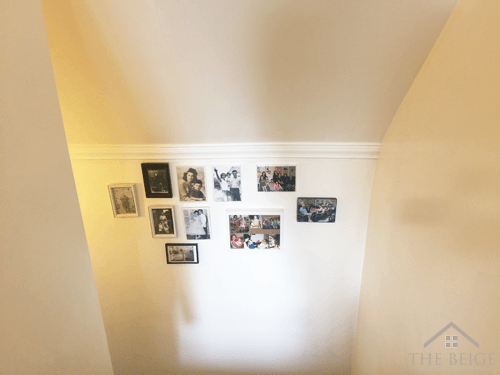 The staircase to the upstairs is actually in the back of our house in the kitchen, which makes me wonder what the original layout of the house looked like (since it's pretty clear the upstairs was an addition to the Cape Cod layout). The hallway had a dark beige/light brown color to it which really sucked any sunlight and made the stairs really dark and gloomy looking, so I decided to paint them a lighter color to help brighten up the space (High Reflective White by Sherwin Williams), which was no easy challenge due to the height of the angled ceilings! I got a little hack-y with getting a paint brush up there: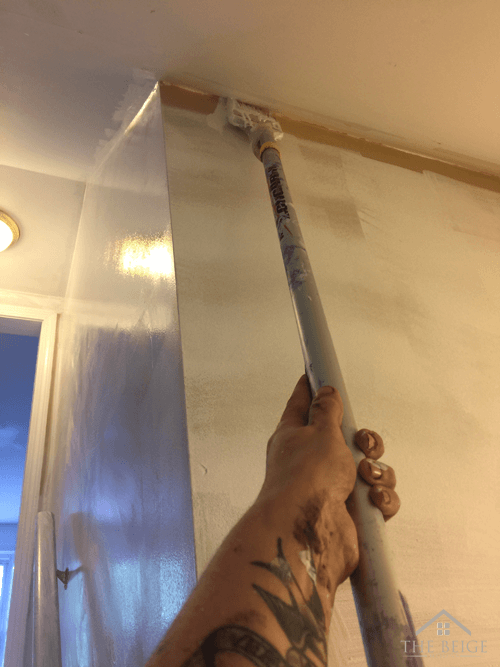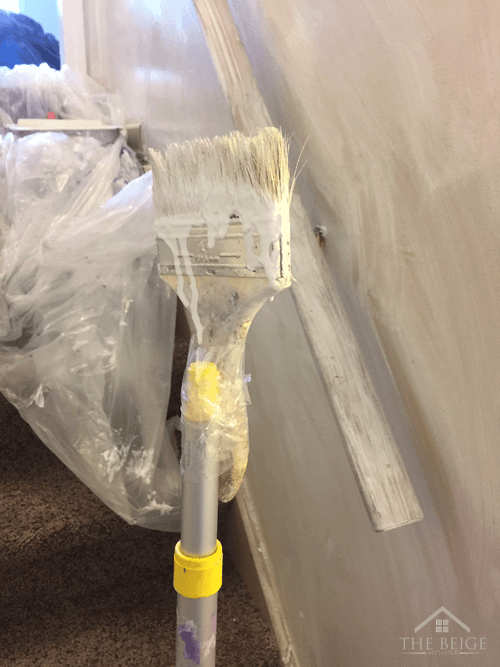 Whatever gets the job done, right? I also painted the railings a nice black (Tricolor Black by Sherwin Williams) to class the place up a little. Surprisingly this space in the back of the house that gets very little natural light ended up being very bright and cheery.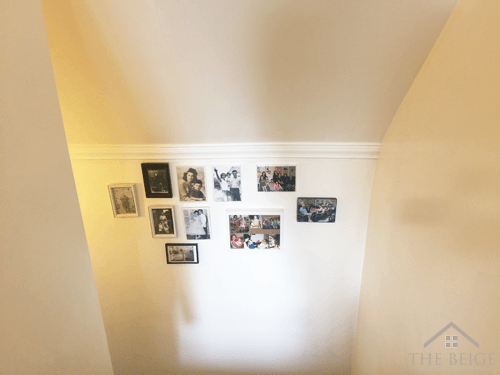 Including some old photos from our family tree really give it a unique vibe that makes me happy whenever I see them.
Plans
Replace light fixture
Replace carpeting
Landing
Before
Current
Welcome to our closet! Our bedroom doesn't have an actual closet, so rather than try to mess with finding space with our angled ceilings, I talked the Mr. into converting the landing into our walk-in closet. We used Rubbermaid shelving systems (6 ft for him, 8 ft for me and my giant collection of clothes). Our floor length mirror is actually one of the sliding mirrors we removed from the downstairs "mudroom" nook.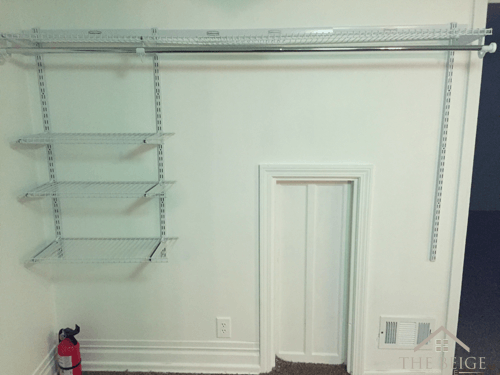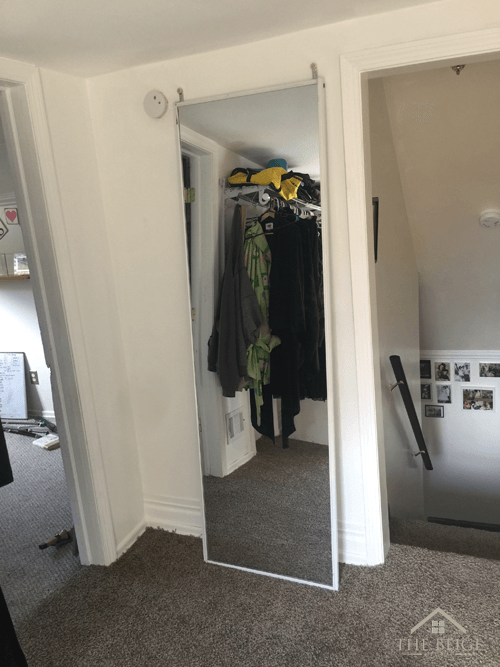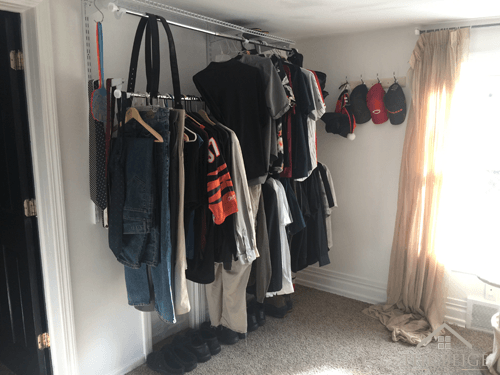 Jeter's cat tree also lives here since it's one of the windows we can leave the curtains open without privacy concerns while we're at work. I also painted the doors black (Tricolor Black by Sherwin Williams) and installed new silver handles. (1, 2, 3)
Plans
Add a center island?
Replace carpeting
Office
Before
This room totally mystifies me. It was clearly a kids room due to the wallpaper and painted polka dots on the Berber carpet (thanks for that), but it had absolutely no heating in it. The ductwork that goes to this room had been horribly damaged to the point that it was blowing heat into the house frame and nothing was reaching this room. Must've been chilly kids? Also, the carpet has a rectangle cut out of it behind the door.
Current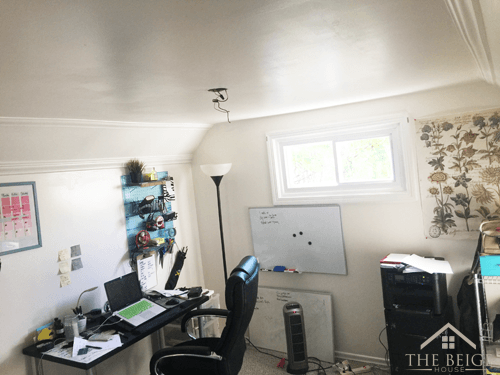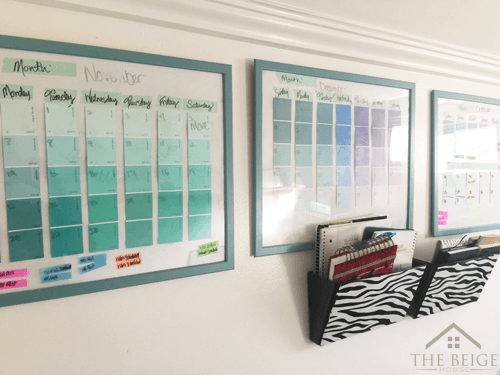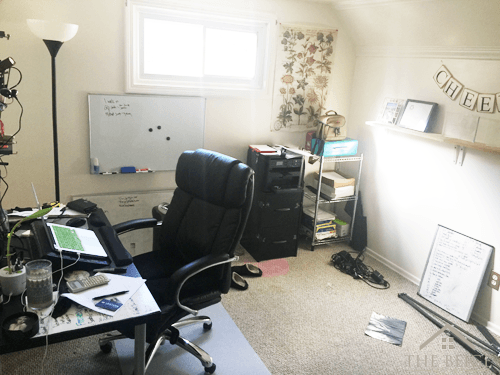 This room was great stress relief: nothing like puttin' on the respirator and attacking that wallpaper. Once that was removed, I put 2 coats of Zinnser primer on to cover up the orange paint, and then three coats of High Reflective White by Sherwin Williams to give it a nice, neutral color. This room only has a half-window so it doesn't get much natural light, which meant I had to make sure to keep this room bright and airy with the color palette (but still gave it a little fun by adding Rose Gold cover plates)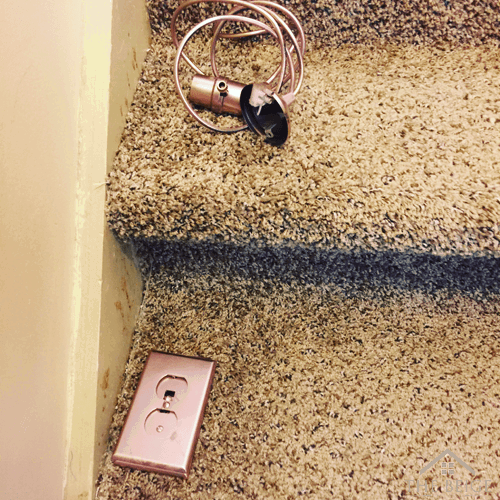 Plans
Convert closet door into bookcase for "secret room"
Add daybed for extra guests
Replace carpeting
Repair ductwork
Install light fixture
Upstairs Bathroom
Before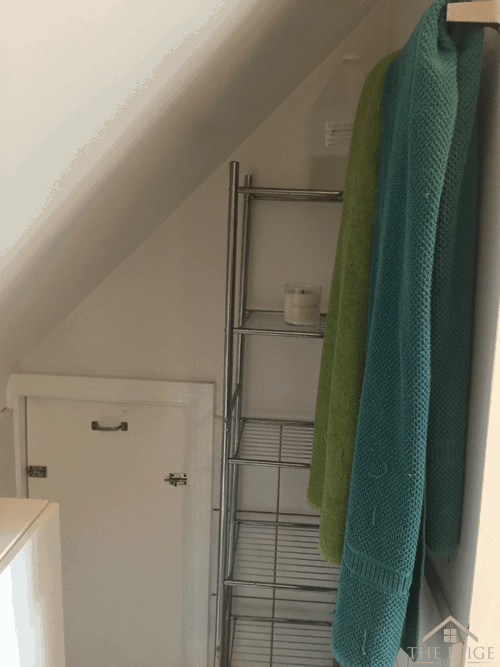 Current 
This is the room where I have the most plans and have done the least with. I really want to create a lot of drama in this room, but it's going to require a lot of work and we just seemed to run out of time renovating more critical things on the house. Right now all that's been done is the installation of a new toilet, adding some shelving we already had from the old apartment, updating the shower head to a rainfall one, and fixing the hot water valve in the shower.
Plans
Expand bathroom with addition
Remove tile
Paint bathroom blue
Install copper sinks and accessories
Install new lighting
Skylight
Expand shower
Replace flooring
Frame mirror
Add shelving
Master Bedroom
Before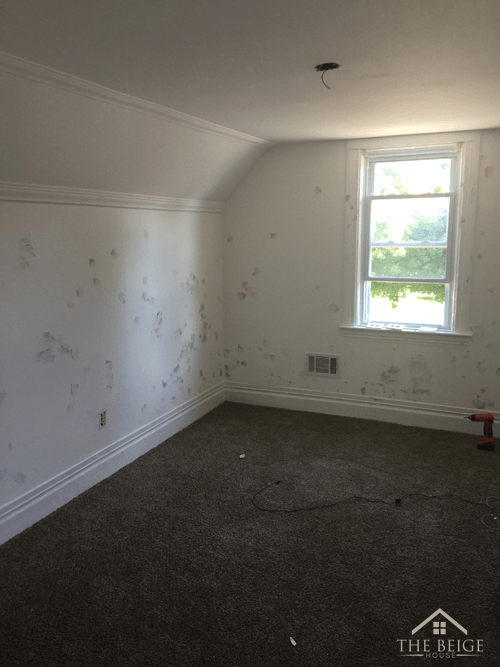 Current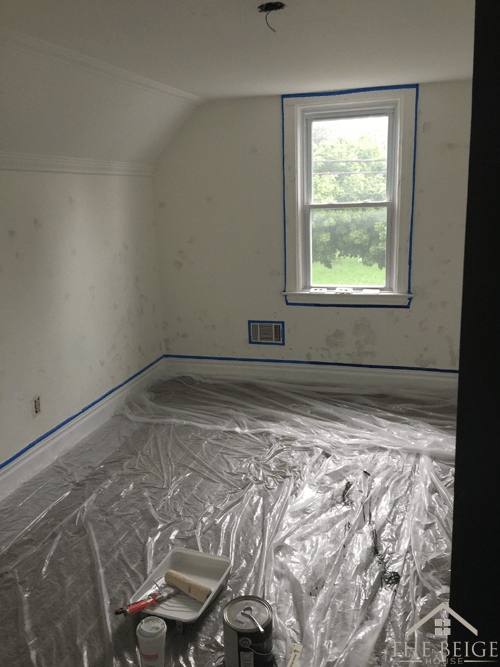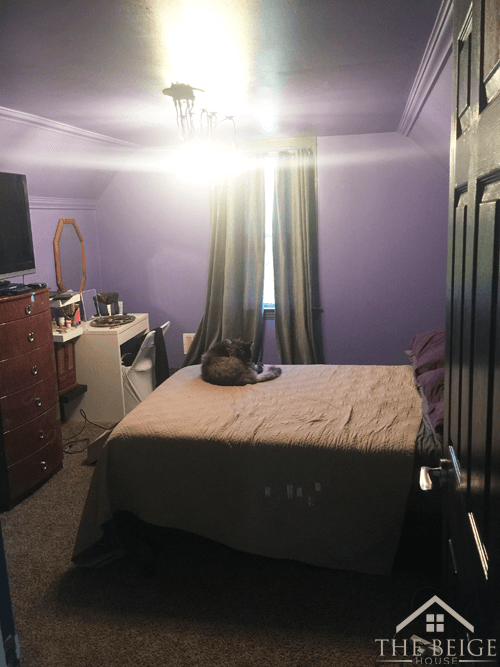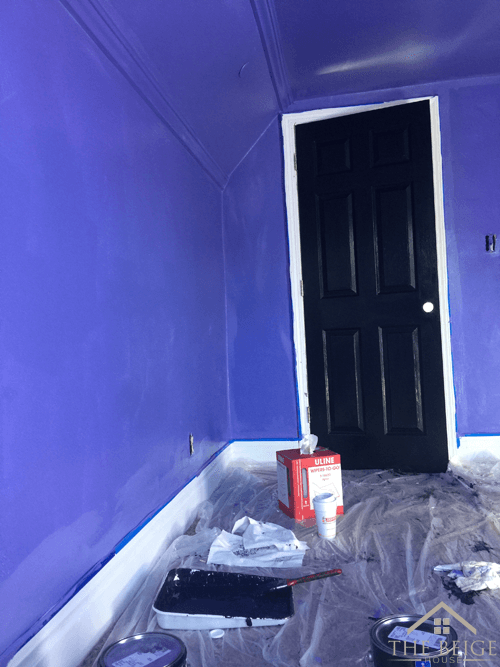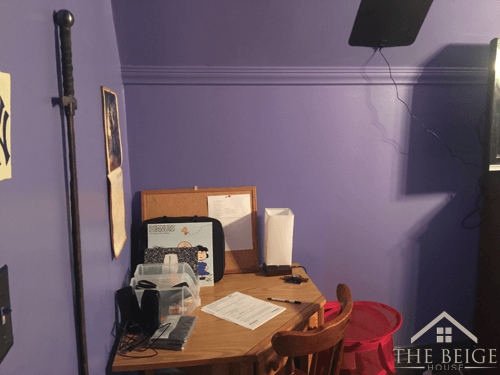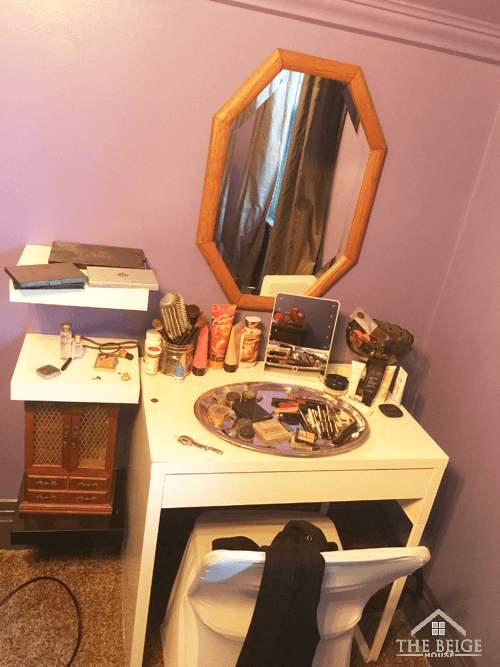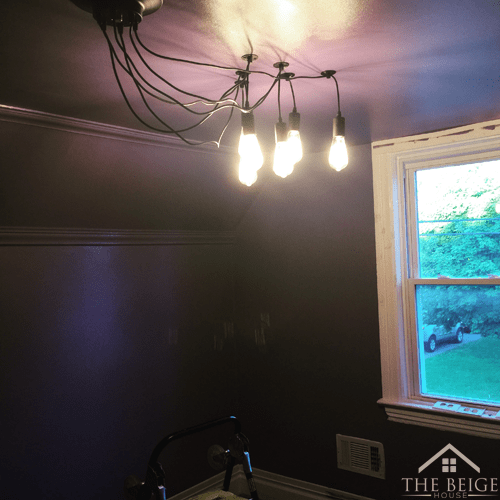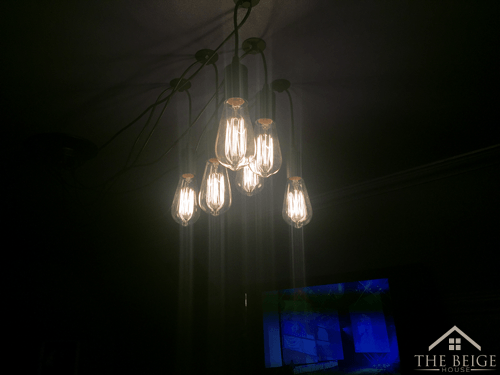 I spent my 33rd birthday painting the 2nd coat on this room, and even though it might feel a little bold with the purple color (Venture Violet by Sherwin Williams), I really love the dreamy and comforting vibe of our room. The chandelier is a budget-friendly version of a stunning industrial chandelier I saw on Pinterest, and the Edison bulbs we've used really add to the softness of the room.
Plans
Add black and white artwork
Add walk in closet with addition
Replace carpeting
Paint frame on vanity mirror ($5 find from Goodwill)
While it was really fun to revisit this, it was a little difficult to really dig into because we've made a ton of progress since November, but figured I should at least let you all see the work we did to the house once we moved in! Check back soon or subscribe to see how many changes we've made since this 1st week.