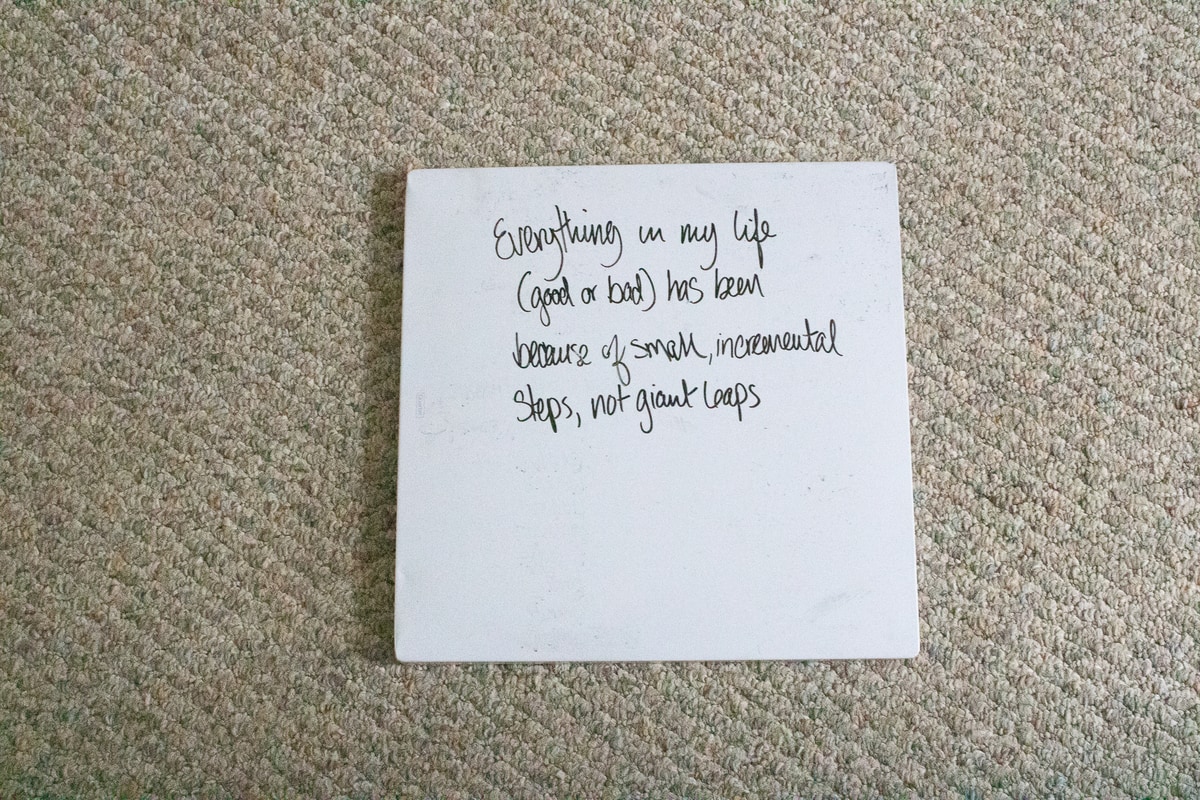 I can't believe I'm typing the number "2020" and not having it be related to some weird unknown future where we all, like, own rocket packs and fight over if flying over someone's personal space ship is considered lane jumping.

But yet, time moves on, and we move forward. 2019 has been a year of big personal changes and some good updates for our home and lives. So I wanted to take this time to do a wee recap of what worked, what didn't, and what we plan to do in the new decade.
Last year's list (taken from this post)
My 2019 Year in Review
2019 HOUSE GOALS
Paint Kitchen – not done
Paint Living Room – done!
Install Range Hood – not done
Install floating bookshelves – done
Get more lighting and outlets in the basement – done
Have an electrician install light next to front door and outlets on the front porch – done
Find full-length fancy mirror for closet – still on the hunt
New long-ass executive desk (which will be a challenge since I'm thrift store only!) – done! Ended up building one myself.
Extras I didn't even consider in 2018:
2019 BLOG GOALS
52 videos (OMFG terrifying) – sigh, not done
>50 printables in the Print Shop – not done. I don't know what I was thinking when I wrote 50
Move to another advertising network – not yet done
Attend Haven 2019 – done and I even got to speak there!
Keep up with editorial calendar goals and don't fall behind more than 2 weeks – erm, sadly not done in the way I originally thought, but I've still kept lists of topics to talk about rather than staring blankly at a blog post.
1k YouTube subscribers – nope
20k Instagram followers – nope
10k Pinterest followers – nope
30k monthly visitors – nope, but getting there.

So, this list doesn't look very complete, I know, but I'm really not disappointed with it as 2019 was a year of change and pivoting for Beige House where I decided to create a more active role in it for myself and really take the reigns on content, whereas before I was relying on other bloggers and social media managers to handle things while I worked a full-time job.

Now that this and MeganBrame (and the vintage line) are my primary jobs, I've been able to see tremendous growth in the past few months where my monthly visitors have increased 70.3%, and while I'm not where I wanted to be with social media follower counts, my engagement is way way better than before.

Cool Extra Things That Happened
I spoke at Haven as a "Marketing Expert" (their words!)
I left my day job to become self-employed and it has been such a relief. And I know how ~Millennial~ this sounds, but I don't seem to do well with office settings (especially open office floor plans, yuck) and, while the money is nice, it is never worth it in the long run for me and my anxiety.
Pivoted Beige House to be about more than just our house. Our house is lovely, but our lives include so much more than that, and I'm hopeful that it's been a better experience for you!
Joined ShopStyle to offer more cool stuff for you
Traveled to Cancun, Atlanta, Palm Springs, Cincinnati, and Palm Bay
Invested in professionals who can help me reach my goals, including a business coach and a team of SEO ballers.
Launched a bunch of cool print-on-demand products in the Print Shop

2019 Year in Review: Favorites
My Favorite Posts of 2019
Your Favorite Posts of 2019 (Based on Pageviews)
2020 Life Goals
Travel to Tokyo
Take 2 additional trips, one being a weekend in the Finger Lakes wine country (it's like an hour away and we have yet to go!)
Paint kitchen
Install range hood
Overhaul my office
Find a damn floor length mirror for our closet that I love
Clear out the remaining vintage inventory
Shift my primary income from vintage to digital media (like the blogs, plus the digital books and courses I've released)
Lose and keep 25 lbs off
Knock out my leftover debt
Merge all of my retirement accounts into one thing, preferably with Vanguard (just feels like a whole thing sometimes)

2020 Blog Goals
104 posts (2 weekly posts)
52 newsletters
52 videos
15k Pinterest followers
5% engagement rate on Instagram while maintaining 10k+ followers
12 sponsored posts
50k monthly visitors
Move over to new ad network

2020 House Goals
Figure out wtf to do with our kitchen sink drain (garbage disposal?)
Paint the kitchen
Range hood finally please God
Redo the kitchen backsplash (peel and stick…never again)
Finish my office updates (that post is terrifying. I promise it looks way better now)
Paint the bedroom maybe?