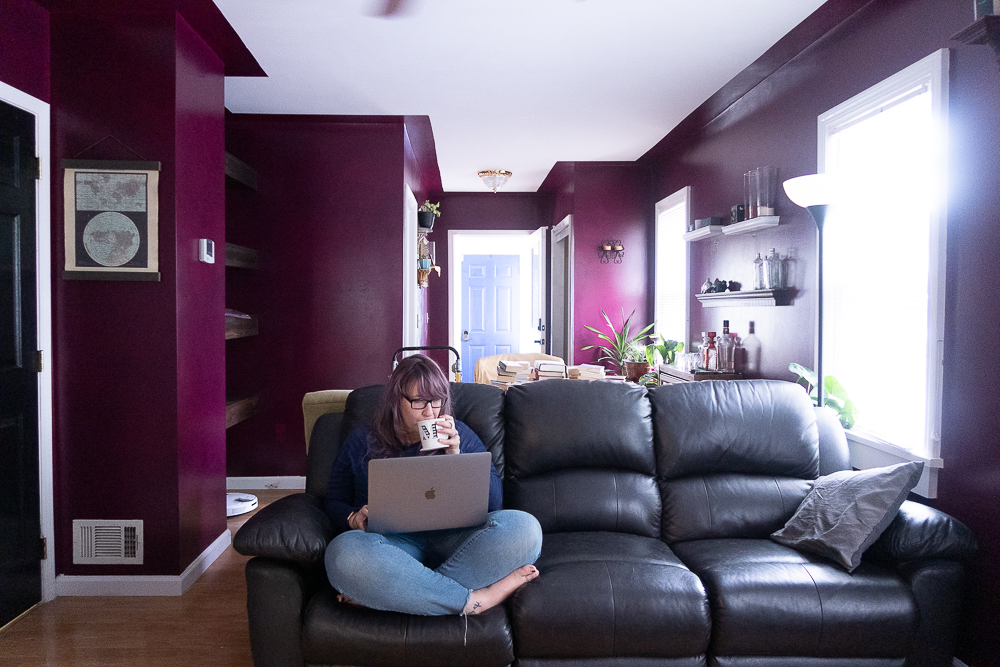 Peeling back the curtain a little today and showing you how I run a platform like Beige House now that I'm self-employed on a full-time basis.
I know a lot of you are thinking about diving into the world of blogging now. And I am absolutely pumped to see that! Now more than ever we need to take control of our professional lives and finances and figure out new ways to diversify our income streams. So if you are here looking for help about how to start a blog, I applaud you and hope you kick ass!
But for the nitty-gritty details, let's dive into the things that help me keep this platform afloat:
Now, before you think I'm a crazy rich person who can drop buckoo bucks on all of these, let me clarify that a lot of these I got as lifetime deals on Appsumo when they were just starting out and needed startup capital.
The Hardware I Use
MacBook Pro with 16gb RAM (this part is key) – I had an iMac for a while but swapped it out for my MBP since it had more processing power and made video importing and exporting easier. I have a Seagate 3 TB external drive that holds the archive of all my raw images and video, so that it doesn't take over all the space on my laptop.
HP 22CWA and 22ER screens – I don't actually use the laptop. But keep it closed and use these two monitors as my main screens along with a Magic Keyboard that has the number pad on it + a cheap Bluetooth mouse. 
Apple iPad Pro + Magic Keyboard – This is actually what I use to write my blog posts. I can't seem to get comfortable writing in my office (mostly due to the amount of vintage jewelry that needs to be listed and is SO distracting. Hopefully, I can renovate the office later to be more accommodating to my blogging). So I have these two set up on a lap desk I found at Goodwill (but this one is a close match). The iPad has a tripod case that has it stand up so I can see what I'm writing. 
Canon Powershot G7X + Canon Rebel T6i – Most people won't need two cameras. But I'm a crazy person for having both of them. I take my G7X out in the world when I need pictures that are better than my phone or when I need to take video and don't have a lot of noise around. It doesn't accept external mics, so it picks up a lot of noise. The Rebel is the one I had first. I like it because I can switch the lenses out, the back screen flips out, it can accept an external mic, and it's WiFi connected. If you need something good "enough", then I'd recommend the PowerShot. But if you want something more manual and more traditional, the T6i is a fantastic camera.
Ring light – I don't use this often. But it's nice to have when I'm filming on my phone down in the YouTube studio. It helps brighten the dark spaces and has different lighting settings to help balance out warm/cool tones.
Tripod – I have two tripods. One is upstairs, which I used mostly for shooting vintage jewelry, and the one in the YouTube studio. If you keep an eye out, you can usually pick a tripod up at a thrift store. But I've kept both of these because of how durable they are while still being modular. I also have this travel tripod I like to take with me on trips since it can go on most surfaces.
Light kit – I have this light kit set up in the YouTube studio ,which Steve bought me as a birthday present a few years ago. They are really fantastic and I have no complaints. 
Background stands + white cloths – Originally, I used these for craft shows to make more of a branded space, but now I use them for their intended purpose! I have two white backdrops that flank either side of my main background. They also help reflect light in our dark basement. I don't really recommend them over just finding some white sheets at Goodwill. But if you're not interested in hunting down white sheets, these get the job done.
Flower background – The flower panel background is something I also originally bought for shows. But since I don't do those anymore I thought they'd be a beautiful backdrop for my videos. I will say, though, that the back grids aren't very sturdy. So I've had to re-zip tie them a few times, and I know eventually I'm going to have to find a way to reinforce them.
IKEA chair – I got this at a thrift store and it's a good enough chair. Though I really want to find a vintage settee or loveseat to replace it, that would look like a better set piece.
Bullet Journal – Last but not least! My Journal holds my blogging schedule, video shoot ideas, blog topics, and trackers. It goes everywhere with me and helps keep all of my ideas organized and in one place.
Again, that sounds like A LOT, I know! Keep in mind that I've been writing blogs in one form or another for nearly a decade. So all of this has been accumulated over time, and don't think that my Day 45,345 has to be the same as your Day 1!