I'm no stranger to being a nerd for statistics, especially when it comes to blogging. Being that I've only had this blog running for a month, and it's the first day of the next month, I had the brilliant(?) idea to keep track of my statistics. Last month I fell off the wagon a smidge because of the closing on the house took a lot of my time, so there wasn't as much growth as I would've liked. Behold: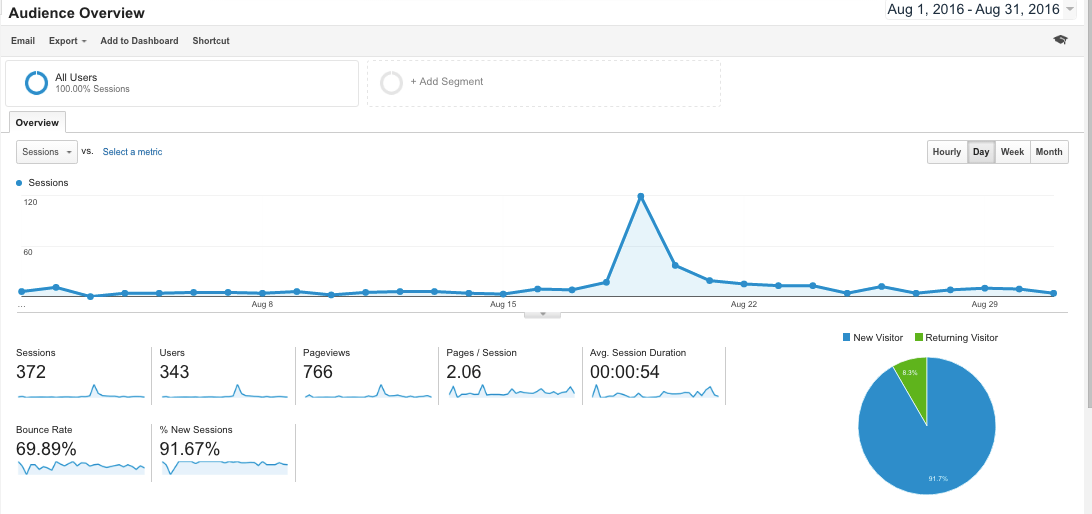 That big pop was due to a post of mine on the Huffington Post which featured a link back to here.
So good news: My pageviews doubled in one month!
Bad News: My Alexa rank didn't increase all that much from last month (5,488,665)

Now in all fairness I don't really think Alexa is the benchmark for popularity of a website, but I like to see how my sites move up (or down, ugh) on it throughout the month as it gives me a little insight on what's working and what isn't. Baby steps, right?
Stats:
Blog Posts in July:19
Total Blog Posts: 57
Instagram: 751
Pinterest: 24
What Worked
Pinterest – Last month I had 4 followers and this month it popped up to 24. While I love Pinterest personally, I avoid using the account for things like recipes or off topic content. Instead I've made sure to focus the Pinterest account on what my readers would want to see.
Adding more personal posts -Super glad to take the SEO hit in order to finally be able to offer posts about what's going to happen to our own home. I know that's the direction of the blog in the longterm, so getting more towards that direction makes me happy.
What Didn't
Daily Blogging – Hopefully now that the big scary moments of buying/closing on the house + car are behind us, I can now get back to business.
The Logo – I created the original logo myself and it was…okay. I felt like it wasn't a representation of the blog or the audience I wanted to reach. So I had a new one made…which was eh. So I tweaked it a bit and now TBH has this current one:

Goals for August:
Begin adding more DIY and personal posts complete!
Get the mailing list up
Get a better social media schedule 
Get 3 "backup" posts 
Goals for September
Get the mailing list up
Switch logo on social media (yikes!)
Release printable products
3 backup posts
At least 25 posts this month