Ever since we decided to take the leap and leave our apartment for greener (and bigger) pastures, I knew that I wanted to fit as much "smartness" into our home as possible…because if I can make my house a "shiny object" then you're damn right I'm going to go for it! Creating a smart home from scratch felt both overwhelming and totally exciting, especially since we planned to do it completely to our own specifications.
I figured that our maiden voyage this past week to paint and get the home ready would be the perfect time to begin flexing our DIY muscle, especially when it came to creating a safe home. While our neighborhood is shockingly quiet (and safe!) there have been known break ins in the new town we're moving to, mostly due to the high unemployment rate so this entire smart home adventure felt like the best way to dive into both upgrading our home and having smart technology. In any case, we knew that we wanted to make sure our home was protected and was monitorable and not able to be easily bypassed (AKA cutting the phone lines…yes, I've seen a lot of horror movies in my day). Here's our breakdown thus far:
A. The backbone of the smart home security system (and beyond)
Let me preface this with: this entire post will be a look into the level of paranoia and preparedness my brain goes through on a daily basis. We knew that the main weakness to our security system would be that it relies on the internet to keep it running, so if our electricity went out that meant our router would go out too and then we'd be S.O.L. when it came to our hub and sensors, so our first purchase was a honking huge backup battery system: the APC BE600M1 Back-UPS 600VA 7-outlet Uninterruptible Power Supply (UPS) with USB Charging Port.
I picked this one mostly because it had the most juice that my budget could handle, and I liked that it had both USB and outlets. Currently our router and hub are both hooked up to it to ensure that minor power blips won't be an issue in keeping our house safe and secure.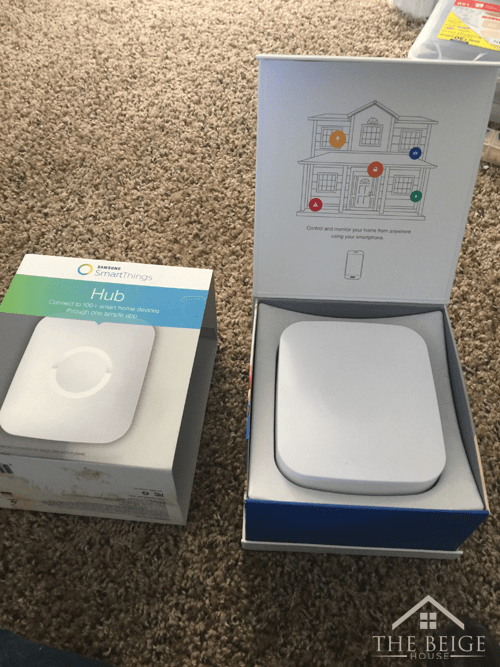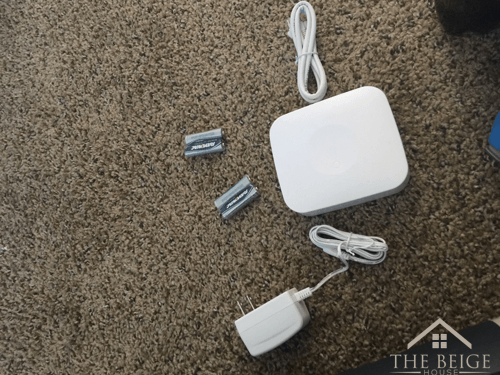 For the actual hub, we got the Samsung Smart Things hub. I was leaning towards Mi Casa Verde for awhile, but in the end the reviews for Samsung won me over. It's been incredibly easy to use on both the Mr.s' and my iPhones and it's been very fun to snoop on our house while we're back in NYC packing up.
We've also got a slew of rechargeable batteries for our locks, smoke detectors, and cameras but more on that in a sec.
B. Locks and Sensors
The cornerstone for creating a smart home (to me) was making sure our entry points were as guarded as possible. We have a total of 3 doors and 14 windows on the first floor (ugh, I know, right?) so securing them at a reasonable price felt like a real challenge, but once I set my sight on the best route to go it felt like a no-brainer.
The setup of the front our home includes a locked enclosed porch, then a locked door. To the side of our kitchen is also a decorative steel door, so I had 3 points of entry that needed to be secured in total, which is what started this whole adventure in the first place: the idea of being able to unlock our porch door remotely for packages without having to actually be there? Amazing.
First, the side door: Since this door is all alone and is, for the most part, our main entrance (as it's right off the driveway), I wanted something ridiculously strong and secure. We chose to work with the Schlage Connect Camelot Touchscreen Deadbolt with Built-In Alarm due to its aesthetic, the inner workings being all metal, the added feature of an alarm installed in the door, and how well it's been rated across a ridiculous amount of YouTube videos (I kinda became obsessed with making sure I knew the ins and outs of each lock).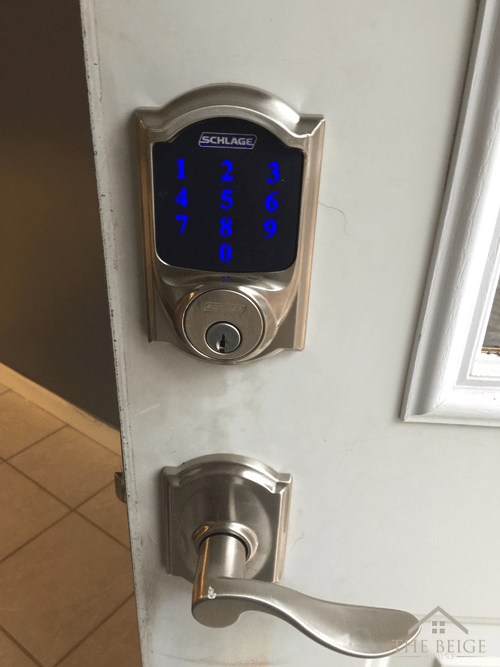 While we had to have a locksmith come in and install it due to our own ineptitude, it ended up taking about 30 mins for him to install so I don't imagine it would be incredibly difficult to do (we just wanted to make sure it was done right). The lock hooked up to Smart Things really quickly and was really easy to program. We had to have contractors come in while we're away, and it was a little exciting giving them their own code to use on the door without having to remove any hardware to do so (and watching them lock and unlock the door. Seriously: I am a nerd and I accept this) .
For the two front doors we decided to go with Kwikset locks, also due to their aesthetic and durability, but also due to their ability to be rekeyed by us without a locksmith. As I said before, we're getting our DIY muscles flexed here creating a smart home, but it was really easy for us to rekey the locks ourselves, and now we have less sets of keys lying around (which we're keeping for emergencies, but so far we've just been able to use the codes to get into the house). Our porch door has the Kwikset 912 SmartCode® Electronic w/Tustin Lever since we needed an all-in-one solution that had both lock and lever. I even gave it a shot setting it up: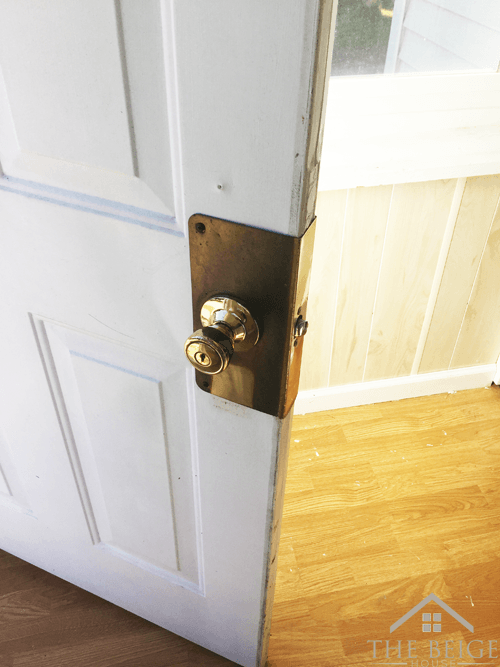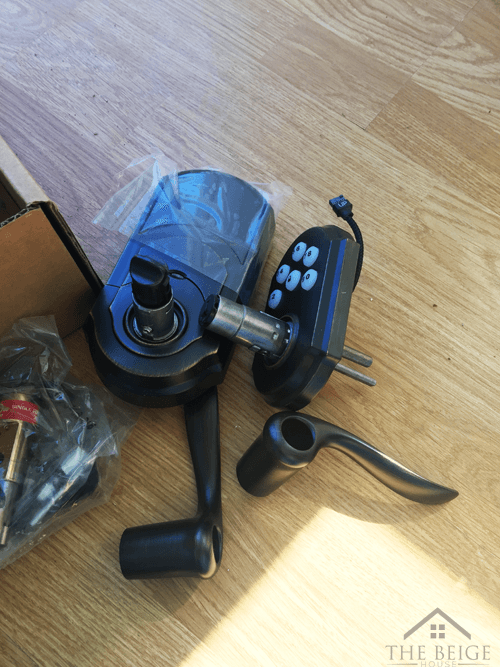 but in the end had the locksmith do it the right way.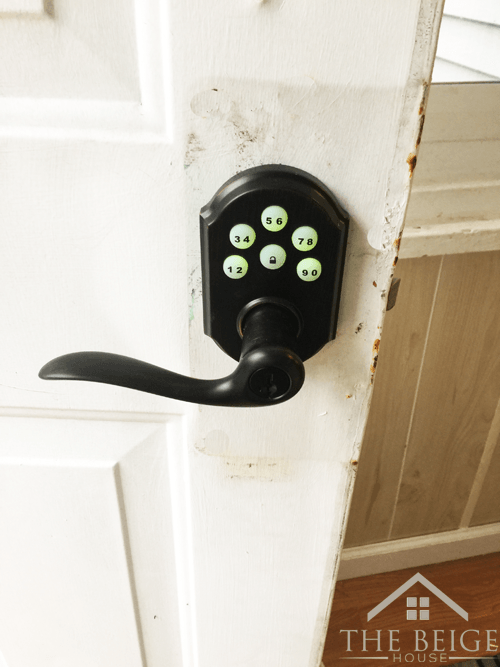 For the front door into the home, I debated between the 910 deadbolt, because of my fear of having the touchscreens fail while wearing gloves, but in the end gave their SmartCode 916 Touchscreen Electronic Deadbolt a go, because Kwikset's awesome customer service (who we called a few times in a panic) said we'd be fine. So far so good! Setup on this lock for Smart Things had a few more steps than Schlage, but was still easy to do on my own.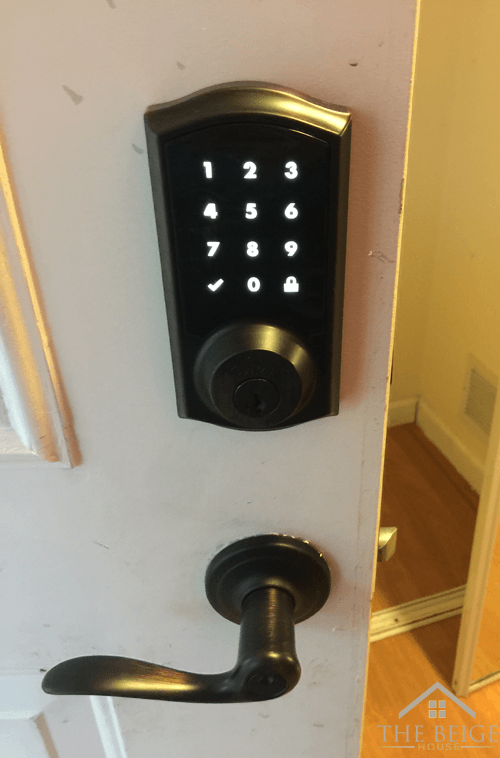 (FYI – The handle is their Tustin Entry Lever featuring SmartKey)
For the window and door sensors, I ended up getting 2-packs (x7) of Ecolink Z-Wave Door/Window Sensor, due to their price and reviews. I didn't have the chance to set these up myself, but since I heard very little swearing from Mr. while he was installing these into our smart home setup, I'm going to say it went fairly well…even the windows that open sideways instead of vertically.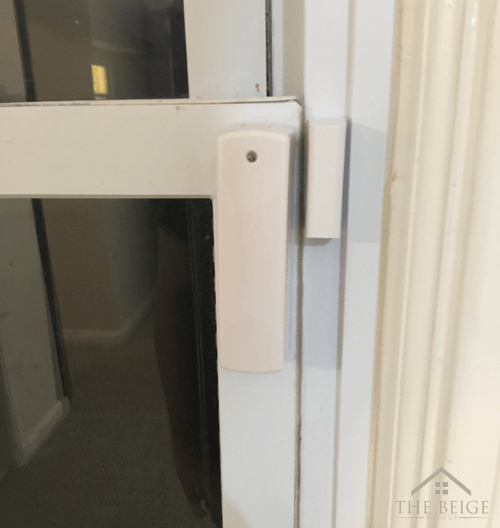 I say "fairly well" because we did have four sensors that wouldn't seem to show up locked, but Ecolink's customer service was BALLER at helping us figure out the solution. As in they called us back to double check and make sure everything was hooked up correctly. Now all of our doors and windows show up as locked and secure.
C. Smoke Detectors
This one shows you my total paranoia-mixed-with-shiny-object-factorness when it comes to building a secure smart home. Since our house hasn't been inhabited in years, we knew that the smoke detectors were going to need an overhaul. Or should I say, the Mr. knew that since he's a Fire Safety Director. I…I did not and just assumed everything would be fine as is. At his request, I began looking into which smoke detectors would be the best for us, easy to install, and would work with Smart Things. Behold: First Alert 2-in-1 Z-Wave Smoke & Carbon Monoxide Alarm was exactly what I was looking for, and wasn't too spendy when it came to a fancier version of a smoke detector. We currently have two of these installed but will probably end up with at least one more for the basement later.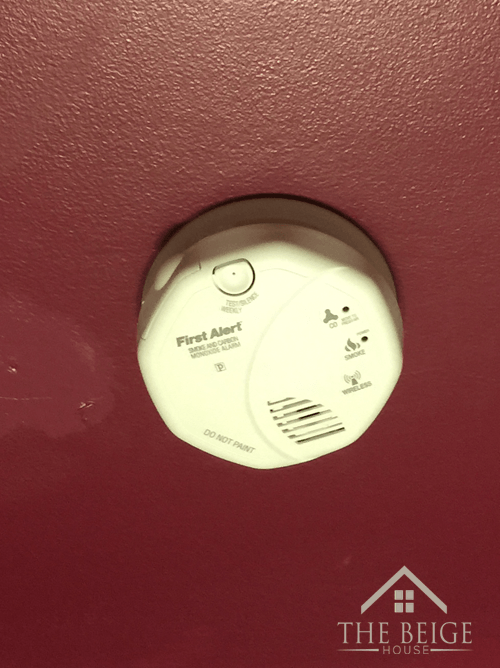 D. Cameras and Lights
This was by far the toughest thing to get because it was something we felt was essential, but hadn't a clue on how to install. Since neither of us wanted to mess with any of our wiring, we needed to find cameras that were wireless, could be used outdoors, and fit our budget. NOT an easy thing to do. Luckily my beloved home automation subreddit came to my aid. It was recommended we get the Arlo Security System as it knocked out a ton of checkmarks we had when it came to camera requirements, including the added perk of free cloud storage.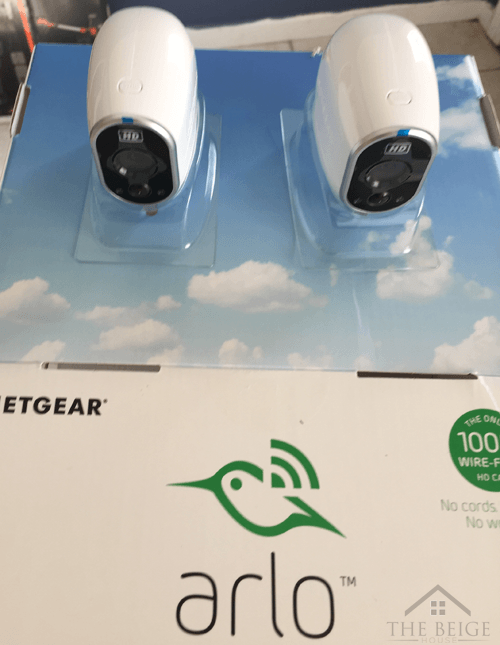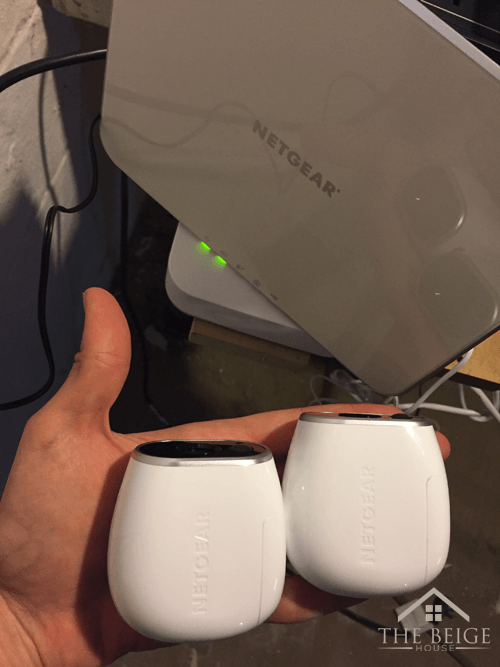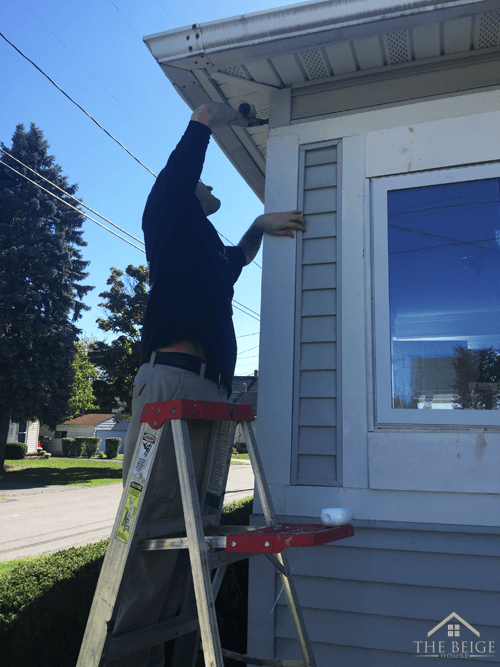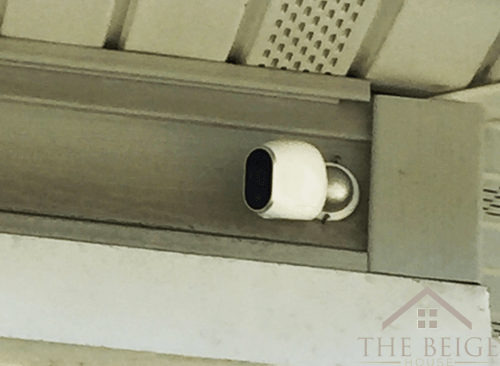 Install was fairly easy for them, and I helped Mr. out with that one so I can speak with experience. However, they're not a perfect system to me for creating our secure smart home: They have their own separate app and don't seem to play with Smart Things except via IFTTT (which is fine), but we had to shut off the push notifications on them, even after adjusting the motion sensor sensitivity, because it became too much of an annoyance and we both knew that we'd become desensitised to the notification completely if we kept it on. Also, while the base is secure there's a major flaw in these in that the actual cameras are magnetically attached to the base…and that's it. Which means, you know, you could come and pull off the cameras from the base. Kinda a big deal…so if you know something I don't on how to secure them better, please let me know in the comments.
For outdoor lights, we didn't go smart for the time being, and instead picked up a few motion sensor lights for the driveway and the backyard. I'd probably recommend something a little stronger, as these do light up when they detect motion, and are solar powered, but the amount of light they give off is negligible and I can't imagine it being much of a deterrent.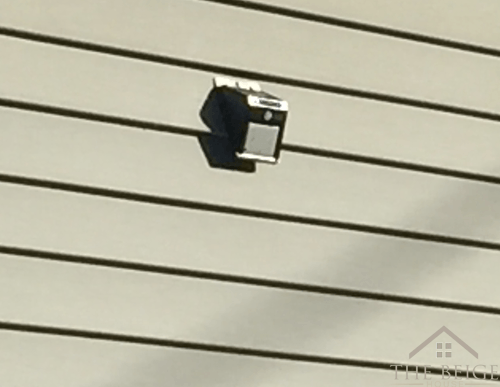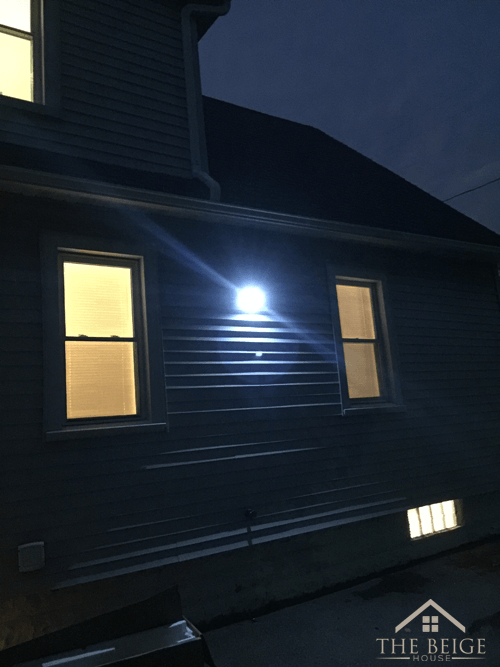 All in all, it took a few days for us to get the smart home system fully set up and useable. We have plans to further upgrade the house as we go, but for the time being, the most essential part of the home (our security) is set up and ready to go.
Next up? Who can say! Light switches maybe…or vents/thermostat. Which smart features do you have (or want) in your home?
---
Heads up: While I was not financially compensated, I did receive locks for free in exchange for trying them out and including them in this post.