The mailbox that came with our home, bless its heart, was on the way out.
Wait, let me back up. One of the mailboxes that came with our home was on the way out. The other one, which was attached to our house, was a wasp nest. (Yes, seriously)
So obviously Wasp City, USA was removed the week we came up to start working on the house. The second mailbox, which is out on the street, was no longer able to close due to ??? reasons? I'm not entirely sure. Maybe it was old, maybe it got damaged from snow, who can say. In any case, it was time for a new mailbox.
Now, let me say that we enjoy making the extra effort for our home decor, and would probably look at really nice mailboxes if they were part of our house. However, our mailbox is in a cluster of 3, on the side of the road, so it doesn't serve a purpose being fancy (I know, I know, I should still make it pretty but I've got to pick my battles).
We ended up purchasing a no-nonsense mailbox from Home Depot that cost about $11.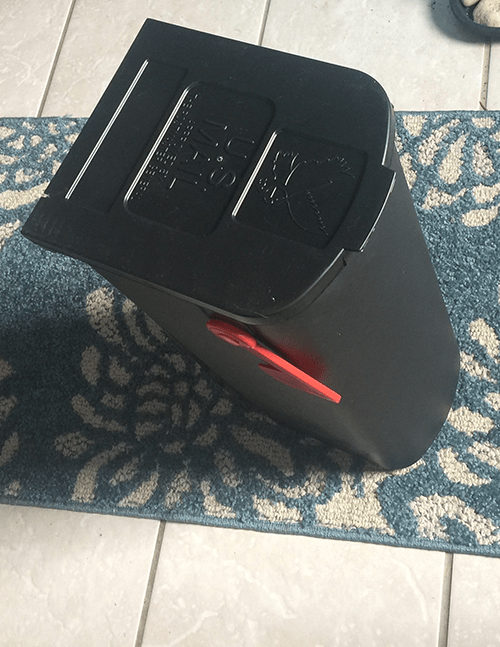 Once we got home, we realized we made a huge mistake – we forgot to get numbers for the mailbox, and the numbers on the old mailbox would definitely not be able to be reused. So instead of making yet another trip to the HD, I decided to hack it and get the job done the best way I know how: with spray paint.
Easy Mailbox Numbers DIY Tutorial
Tools Needed:
Mailbox
Stencil (I used this set of numbers)
Some sort of photo editing software to create stencil
X-Acto knife
Cutting mat
Painters tape
Sanding block or sand paper (~150 grit)
Spray paint (I used Rustoleum's Metallic Gold Spray Paint)
Step 1: Measure area that will hold the numbers.
For me it was a shiny area on the face, about 5×3″
Step 2: Find stencil and make house numbers in software
I just threw numbers from my set into Photoshop and printed it on cardstock. I'd recommend using the thickest paper you have around or picking up cardstock for projects…you'd be surprised how handy it becomes!
Step 3: Cut out numbers with X-Acto knife over cutting mat.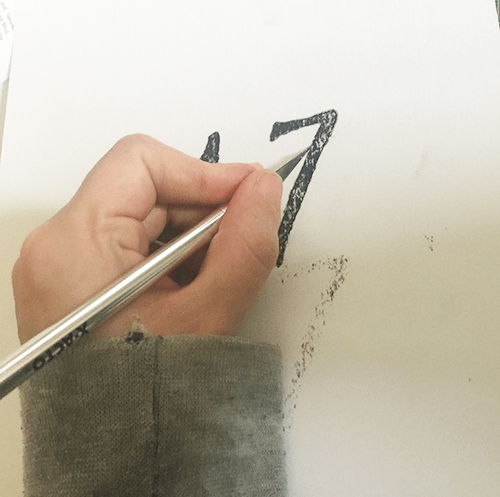 I'd recommend also flipping it over and re-cutting from the back if you're a cutting wuss like me and can't seem to get it straight through.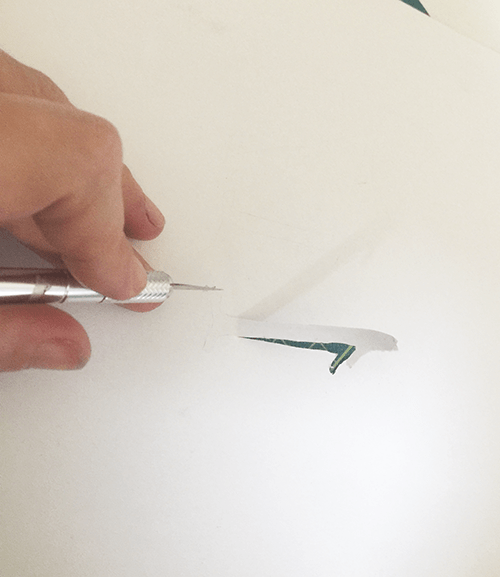 After that, cut the stencil down to size so that it fits the area of the mailbox.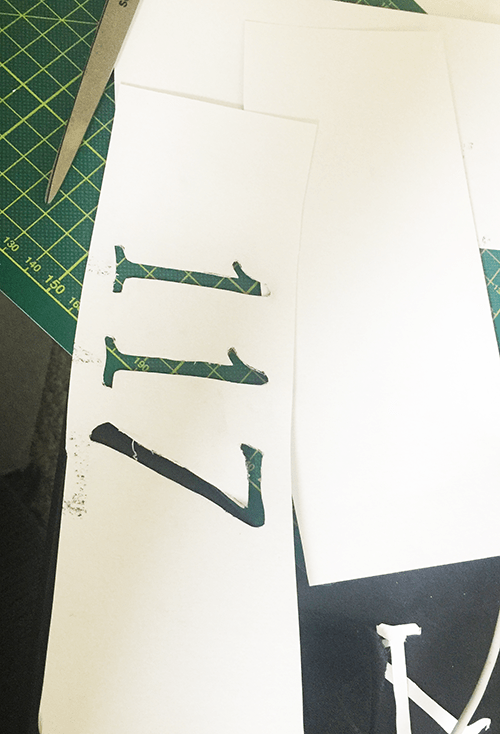 Step 4: Sand area before preparing
Scuff it up a little so that the paint can stick to it better. It doesn't need to be anything fancy, I actually used a beat up sanding block with a fine grit to deluster the area.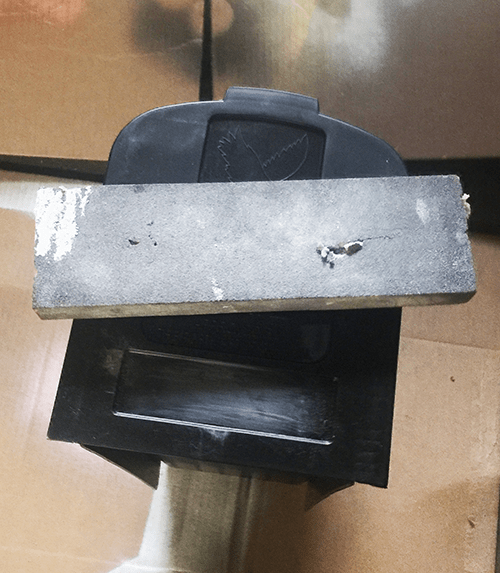 Step 5: Tape stencil down
I'd really recommend making sure the stencil is cut to size so that it fits perfectly into the area, otherwise, your paint may seep through and cause a mess (ask me how I know. Sigh.)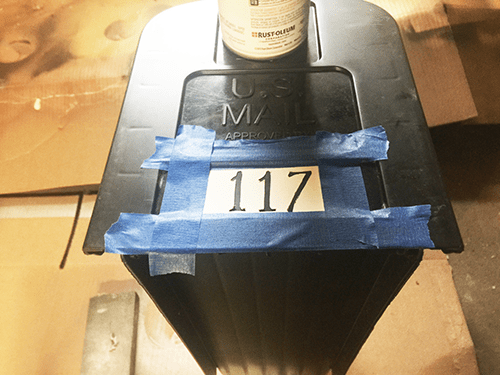 Step 6: Give it three or four good spritzes
I originally wanted to use Rustoleum Textured Metallic Spray to give it a nice, interesting aluminum look, but no matter how many times I shook the can, the paint came out too watery for this situation. I actually had to sand off the mess and try again, this time using my old faithful metallic gold. Don't go crazy spraying this, just a few quick, short spritzes will get the job done.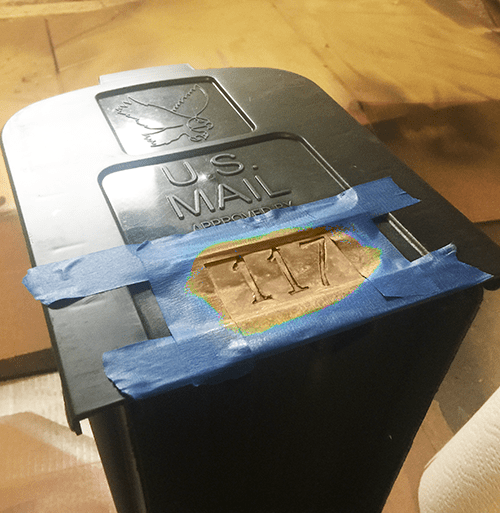 Step 7: Remove stencil and let dry
I did this pretty quickly so that I could clean up any messes that may have happened. I used a little piece of a wet paper towel to clean up and seepage and let the rest dry.
Voila! Now we have a functional mailbox that's up to the requirements of the USPS, and we didn't have to make any extra trips or spend extra moolah. So easy!