One of the rooms I'm most excited about renovating is my office for two reasons:
1. It's where I'll spend a ridiculous amount of time.
2. It's a room that is totally mine
I've been searching home office ideas on Pinterest for months now, ever since we made the decision to buy a home, so believe me when I say picking only 30 ideas was really hard.
But, being the nerd that I am, I knew that I should at least categorize these a little, because otherwise I'd get an eye twitch thanks to my need for categories and organization. So I broke this up into two sets: DIY ideas for the crafty folks, and full on Room Inspiration for those just looking for some room porn.
Also, for the record, this post took me about 3x the normal time it usually does to write a post…I kept getting distracted by all of the amazing tutorials!
Favorite Home Office Ideas: DIY Ideas
View from the Fridge
Secret Door Bookcase (via Instructables). Great if you're using a bedroom and want to hide the closet
Favorite Home Office Ideas: Room Inspiration
Let me preface this with: there are a ton of amazing home office ideas on Pinterest, but for these picks, I tried to include rooms that were beautiful, as well as functional. So many offices were incredibly lovely, but there would be oversized art lying on the desk, or ridiculously uncomfortable looking stools…like, it was clear no one was actually sitting in these spaces for multiple hours a day, you know?
Home Bunch
The Every Girl
Interiors by Studio M
Schumacher Homes
Interior God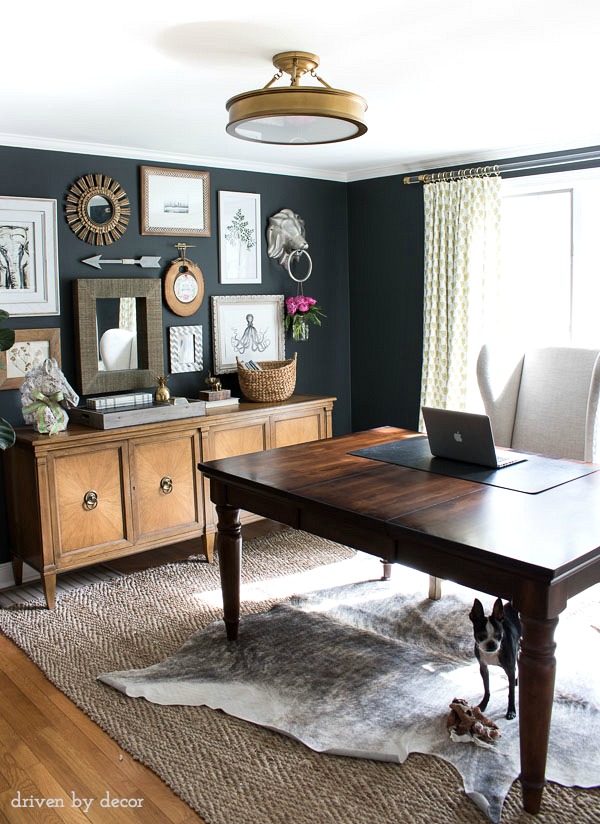 Home Bunch