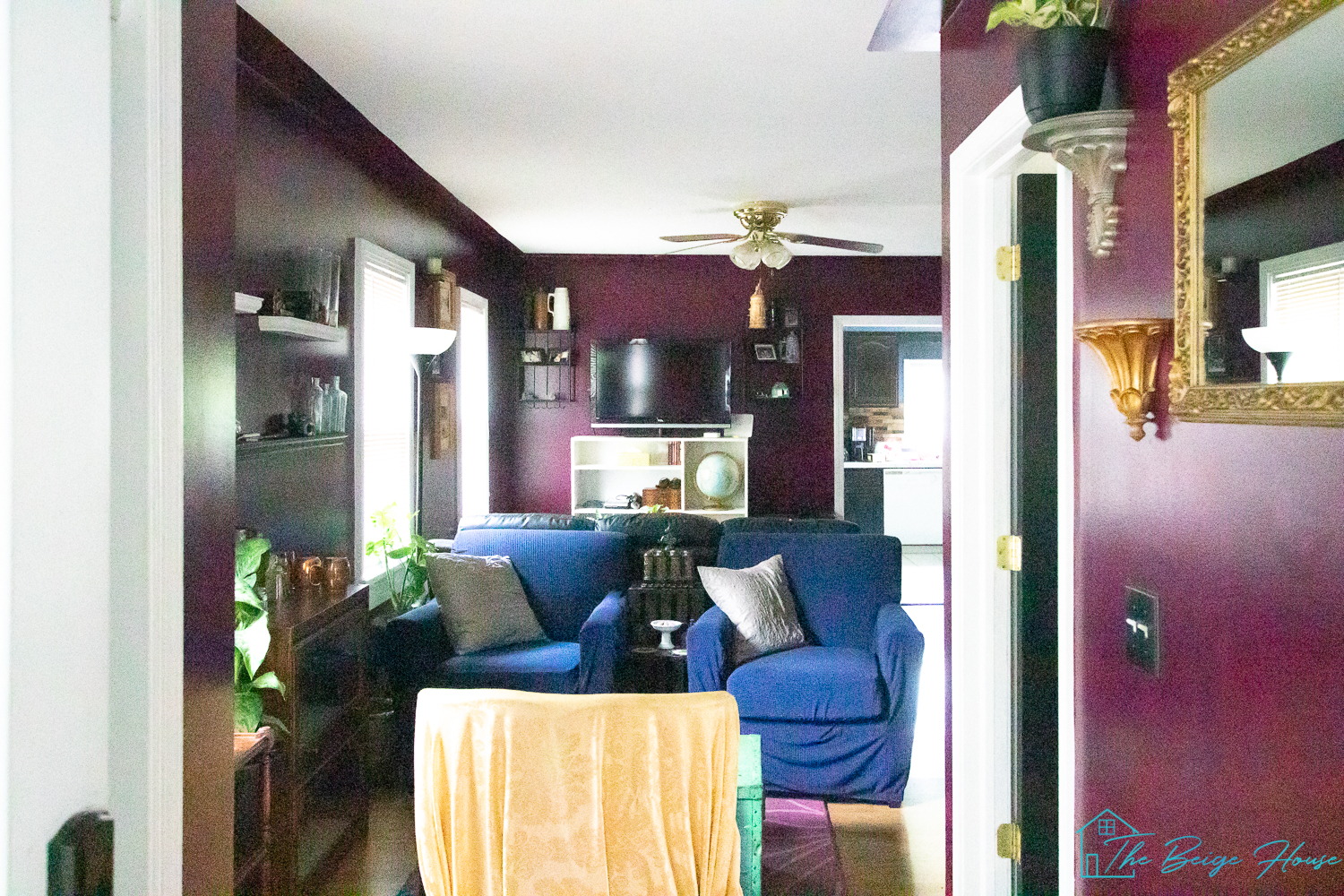 I don't write in my office because it's too distracting, what with the list of house and work projects on my giant whiteboard and the dwindling-but-still-formidable collection of vintage jewelry and other sundries that I have to finish listing online.
Which is the antithesis of having an office, right? I'm supposed to be able to work there! 
My plan this year is to reclaim my office and make it a room that feels light and comfy. Like a brighter Victorian-style parlor. It's actually one of the few rooms in our house that isn't painted a jewel-tone color. I kept it that way so it would feel as big enough for big ideas and projects.
But it's still a room that I want to reflect my aesthetics and personality once I get the opportunity to rework it. And with that comes the conundrum:
How can I reorganize this space/room without spending a ton of money but still getting the results I want?
Here is my plan. And I've used it for decluttering every room in our home so I think it should work in my office, too.
How to Reorganize Any Room
1. Decide on the feeling you want the room to convey
This feels a little "woo woo" to say, especially if you're reorganizing something like a garage or basement, but I've found it's a critical first step. Go into the space and notice the way it makes you feel. Does it stress you out because of the clutter? Does it just feel off but you aren't sure why? Try to pinpoint the way the room makes you feel now, as opposed to the way you think it should make you feel (even if you think the room shouldn't make you feel anything at all! Neutral is way better than stressed!) as this will be clutch later on.
2. Get pragmatic about the furniture in the space
Whether it's your closet, your office, a bathroom, whatever, it's time to look at the hardware of the room (which is what I consider furniture to be. The little decor stuff around is like software) and make some stoic decisions about what's filling up the space. Are you defying the laws of gravity with too many clothes on one rack? Do you not know what your baseboards look like because of all the furniture against the walls? Just how big of a vanity does your bathroom really need? Start to envision ways to either move, repurpose, or let go of pieces that are messing up your room emotions.
3. Start looking for opportunities to make the space feel bigger
This usually involves getting things off of the floor to give the feeling of airiness or more space. I really love heading to thrift stores to look for shelving for situations just like this, but my one true love of my office has been my pegboard as it holds so much and takes up such little space.
4. Take a deep breath and purge
We can dive into this in another post later on but remember that this room is making you feel bad. A room in your own home that you're paying for! Konmari the eff out of the tchotchkes and give yourself permission to declutter things that make you feel off but that you've kept around for reasons (obligation, sentimental value, maybe even monetary value).
5. Bonus: Flip the furniture
Not flipping like house flipping, but one thing that took me WAY too long to realize is that there are pieces in my office that will take up less space but still be functional if I flipped it on its side. I know many of you have some IKEA Kallax in your home, remember that it (and some other things you might not have originally thought about) are structurally able to be used in different ways. Look at your bookcases, cabinets, etc and see if there are ways to remove shelves, add shelves, switch out doors, whatever. If it can be saved and "flipped" in a new way, then it's worth the effort don't you think?
Stay tuned as I show the progress of my office and maybe someday showing off my office in its final (or final for that moment) form.