Diverting off to a new subject for a little bit, I want to talk about Depression Glass. 
Or rather, why you should be scouring the thrift stores for Depression Glass.
Is it stronger than dishes today? No, not really. 
Is it radioactive? Some of it is made with uranium that will glow under a black light, but it's not really going to make you grow a new limb or anything.
Is it as valuable as vintage Pyrex? Nope, it's usually pretty cheap.
So why am I talking to you about it? Because the shit is downright gorgeous.
Look, as someone who lives in a goth house, I'll be the first to say that pink dishes don't exactly go with the aesthetic. And yet, I can't help but love it: the craftmanship, the patterns…it's all just so gorgeous.
What is Depression Glass?
So to give you a little history blurb, Depression Glass is glass decor, dishes, cups, and kitchen accessories that were created during the Great Depression as a way to entice shoppers into buying more stuff.
It was usually given away as promotional items (sometimes even for just buying gas!) and came in a variety of patterns and styles. The most prevalent color was probably the green that you associate with Depression Glass, but it also included pinks, reds, blues, purples, opalescent, carnival finishes, and even blacks.
Blacks and deep purples are probably the hardest to find, with true carnival glass behind right behind it, while the blues, pinks, and greens were way more popular.
Some have finishes like "marigold" and slightly iridescent, which shows off the true works of art some of these designs are. Others are matte colors like Jadeite which are highly sought after and stupidly expensive. 
My Favorite Depression Glass Patterns
While I do sell vintage glass online, I also hoard it away and can't help but pick it up anytime I come across a truly gorgeous piece at Goodwill. Here are some of the patterns I keep an eye out for: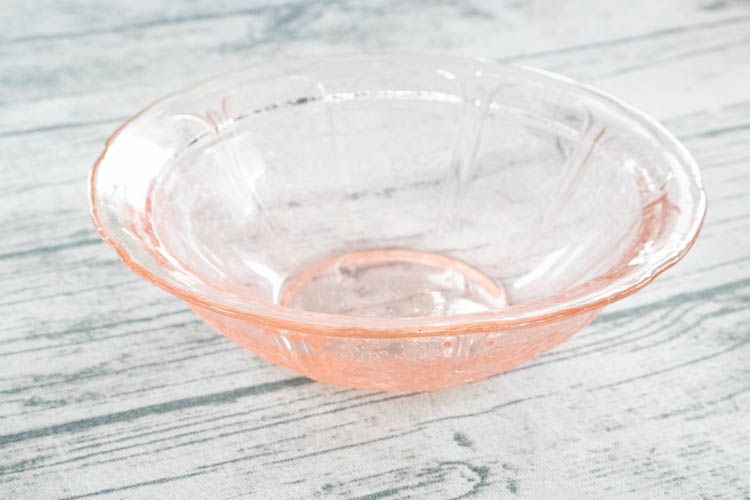 Cherry Blossom
Created by Jeanette Glass, Cherry Blossom ran from 1930 – 1939 and was available in pretty much every color possible because it was so popular, but you'll most often find it in pink.
Madrid
Made by Federal Glass from 1932 – 1939 and was available in green, pink, topaz yellow, clear, amber, and blue. It was repurposed in 1976 and re-released as "Recollection."
American Sweetheart
Made by MacBeth Evans from 1930 – 1936. I also love the scalloped edges of these pieces and how thin the glass is.
Manhattan
Made by Anchor Hocking from 1938 – 1943. Available in clear, ruby red, green, pink, and iridescent. Though it's not as detailed as the other patterns here, Manhattan holds a place in my heart because the pattern is so versatile.
Philbe 
One of the rarer patterns, Philbe was only around for 1937 – 1938 and was made by Anchor Hocking. It's also most famous for being available in baking dishes with a pale shade of blue.
Alice 
Alice is the most popular pattern of jadeite and was released by Anchor Hocking/Fire-King from 1945 – 1949. I don't find the design to be anything spectacular in itself, but I do love it in a finished jadeite piece.

So next time you're heading on a thrift store run, check out the glass section of the store and appreciate the gorgeous history of these pieces (and then send me pics).