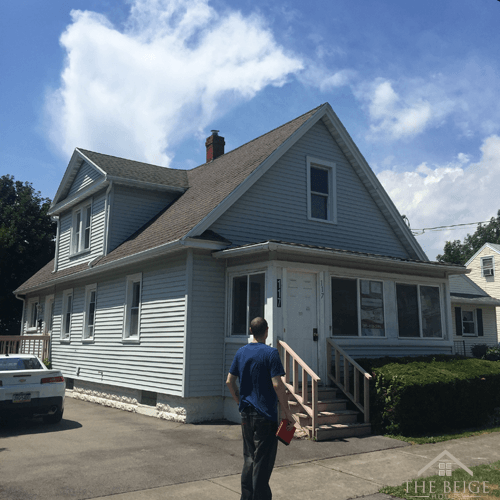 We have friends who just closed on their first house this month, and I couldn't be more excited (to shop for them)! I remember the excitement of opening the door, our door, for the first time…and then feeling the immediate overwhelm of all the things we'd have to buy and do.

I created this guide with the help of my husband as we both racked our brains trying to figure out what we would've desperately wanted (or what we received and were especially grateful for) when we stepped into our lives as new homeowners. Check it out:
Gift Ideas for New Homeowners
This is #1 for a reason, especially if they have a yard. We got this set to help manage the onslaught of leaves in our yard and it's been a HUGE help.
I love this idea as a housewarming gift. I usually find the most options on Etsy, but you can also check Amazon.
Pizza Gift Card
Seriously, find the local pizza place that delivers and see if you can get a gift card or send a pizza when you know they're working at the house. 
Alexa
I consider Amazon Echos and the rest of the line as something more "nice to have" than necessary. But I absolutely recognize the shiny object factor of them. Alexa is awesome in the kitchen when cooking since I mostly use it for conversions.
Blink Cameras
We got these after our Arlo system went on the fritz, which I attribute more to the cold weather than the actual system. They held on for 3 years, so no complaints. But we decided to go with Blink XT2 cameras instead of getting more Arlos because of their voice functions and AA battery usage (Arlo uses some weird-sized batteries that are harder to come by than good old AAs)
This is the smart home system we use, so it's the one I can vouch for. Like Alexa, it helps to automate things and connected easily to most of our smart home gadgets. 
Smart door locks
One of the best purchases we've made were our Schlage smart locks when we first moved in. I love that we never have to carry a key (though we still got a lock with a key as a backup) and can give codes to different people (guests, cat sitters) and keep our master code to ourselves.
Believe me, they'll use it.
Appliances
Appliance gifts, both big and small, are always needed and much appreciated by someone moving into their first home. Kitchenaid mixers are well-loved, but if you want to go all out, then by all means! Our family gifted us our washer, dryer, fridge, and stove, and it was beyond appreciated.
Dishes/Cutlery
One thing we never realized until we moved into our house is that we were severely lacking tablespoons. Dishes and cutlery (whether you want to go modern or vintage) might be high on their list as they move into a bigger space.
This isn't the sexiest gift, I know, but it's way more practical and will definitely be appreciated while they're fixing the place up!
Low Effort Plants
If they've got the space for it, bringing a low-maintenance potted plant will help not only with decor but can also help clean the air inside the home. I've got a whole list of plants I've picked up straight from Amazon if you need some ideas.
Your Time
If you're at all handy or willing to try, believe me when I say your efforts will most likely be appreciated. Come help them paint, screw in light bulbs, or fix up the yard.
For the multiple quick trips they'll need to do for new shower curtains, towels, and anything else.