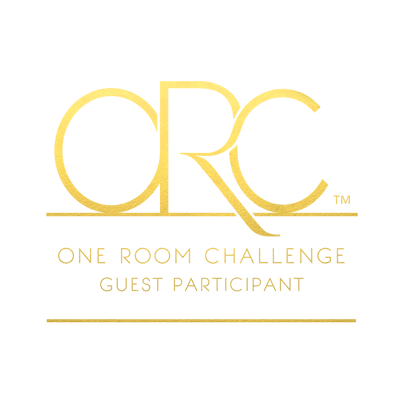 Okay, so I've slacked a bit on my big plans for our kitchen redo. Sorry. We did get the faucet done, though!
BUT not all is lost, especially for the biggest part of the redo: my laundry room doors.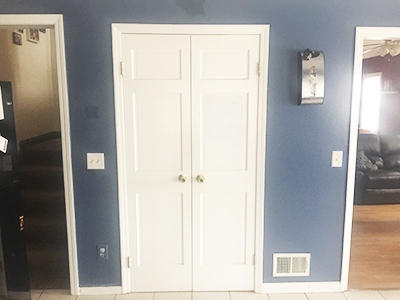 If you've been following along, you know that I. HATE. THESE. DOORS. They're inherently boring and a huge focal point of the room so they just feel drab. Previously, they held some rules that had been painted on the faces of the doors for some unruly ass children (complete with warnings about not using indoor voices) which no amount of primer and white paint could completely cover. And besides – I just knew they could be better.
My previous post listed a few inspiration pics, but if you don't feel like clicking back, here's the Cliffs Notes: I love copper. Especially old copper with patina so I got it in my head that I would turn these boring white doors into faux copper ornamental doors like we had pulled them out of a sunken old-timey luxury ship, a la Titanic.
But this project scared me more than any other project I've done because these doors would be so bold. The kitchen is a huge part of a house, it's the main room we enter when we come in from the driveway, and this could go seriously wrong. Besides, if it did go wrong, can I paint over a patina? How does that even work?!
I'll stop talking about my anxiety and just get to it. Like Andre 3000 says, "Y'all don't wanna hear me, you just wanna see the doors" (those are the lyrics, right?)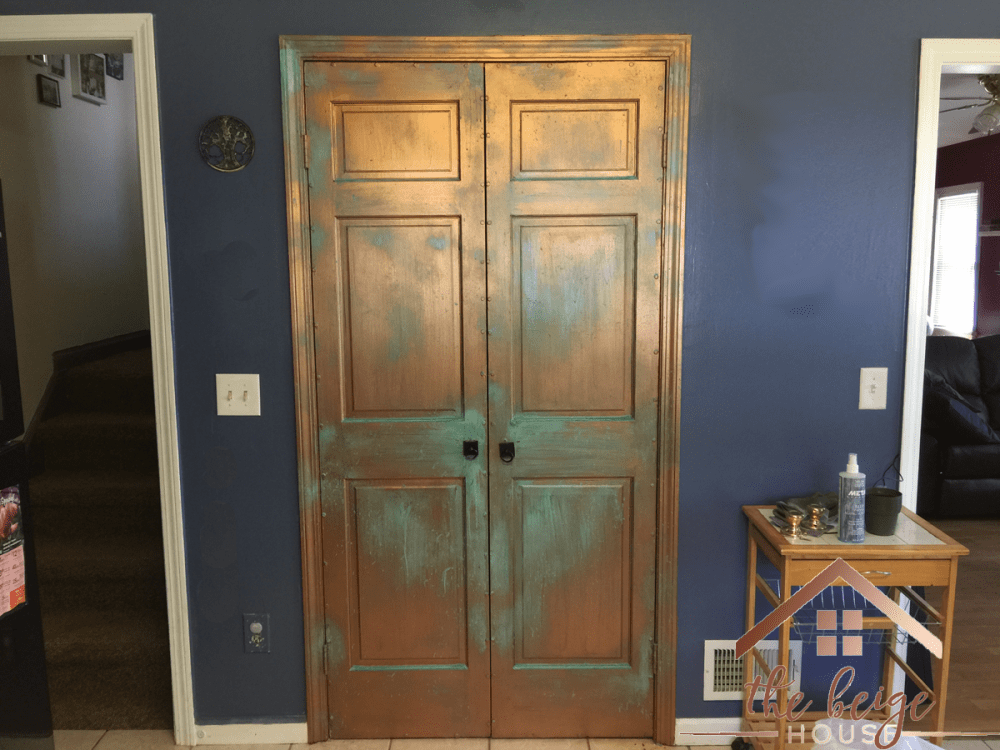 I even added rivets to the doors to make it look even more old-timey.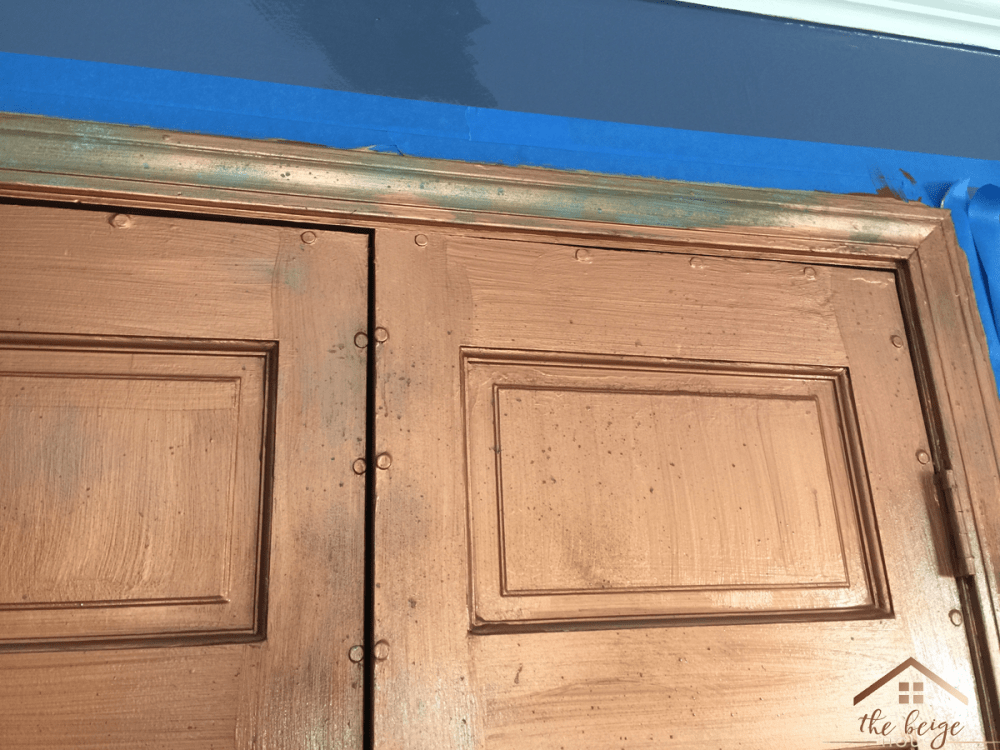 By the way, that paint is copper, not copper-toned. It has a beautiful metallic sheen to it. The patina is actually oxidized copper patina, too (Guys, I'm not that good of a painter, you know what I mean?) Check it in this wee video that goes over the entire doors and frame:
Okay so here's how I did it:
Copper Ornamental Door DIY
Step 1: Rivets
This was a big part of the door for me because I felt like rivets would add an extra authenticity to the aged look of the doors. But I have no idea how to actually do rivets, and the doors aren't that sturdy. Luckily, National Hardware came to the rescue with…thumbtacks!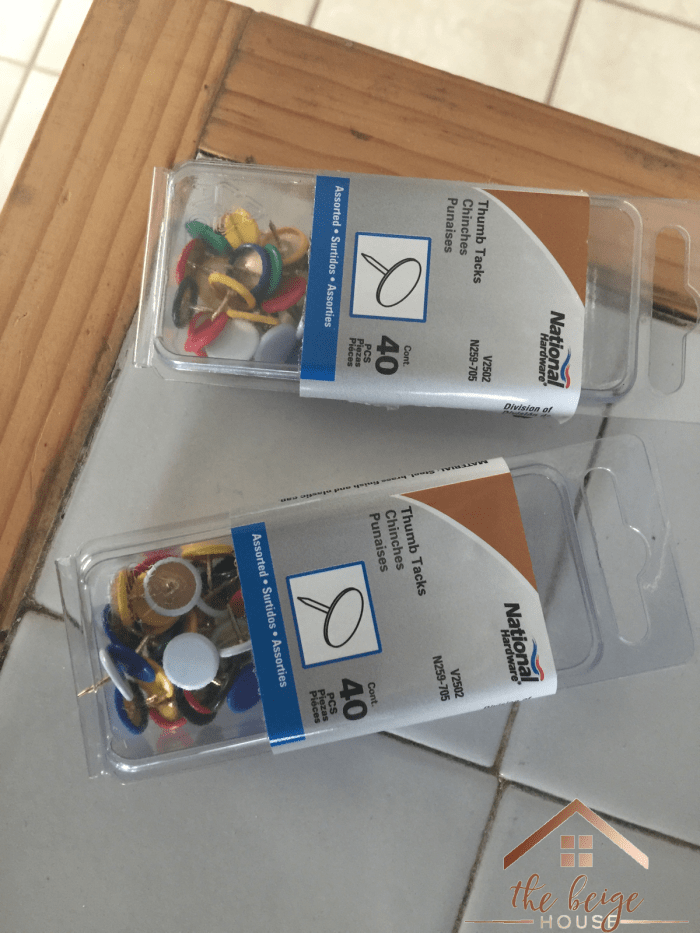 On the interior part of the doors I made sure to make the rivets symmetrical, but on the tops, bottoms, and outside (where I wouldn't notice variances), I just sorta winged it.
Now, adding thumbtacks into a door is not for the delicate, and my thumbs were killing me on, like, thumb tack #3, so I brought out my rubber mallet to help me out.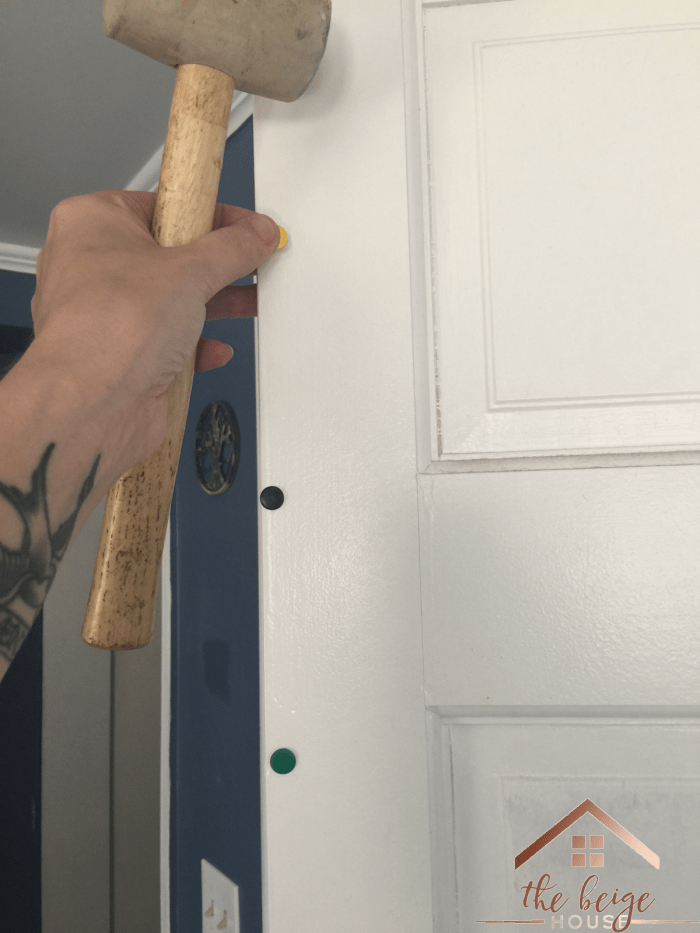 I lost a few good soldiers along the way due to the force of the malleting (??) and all in all, I used a little over 2 boxes of tacks.
Here's what it looked like once that part was done, what I liken to an entryway of circus horrors: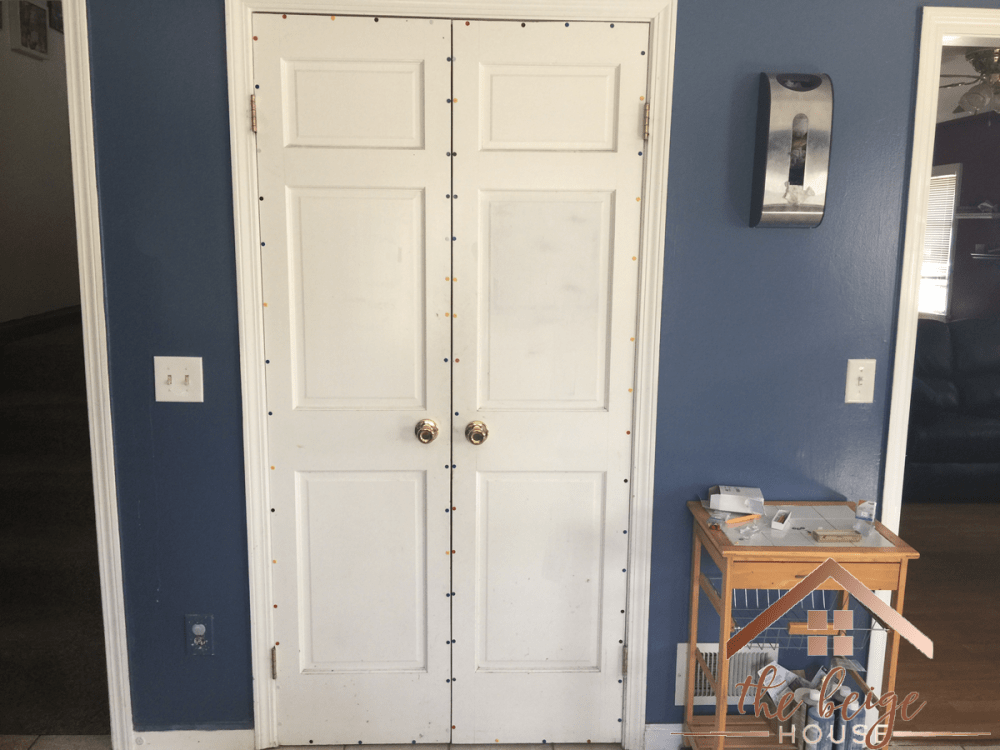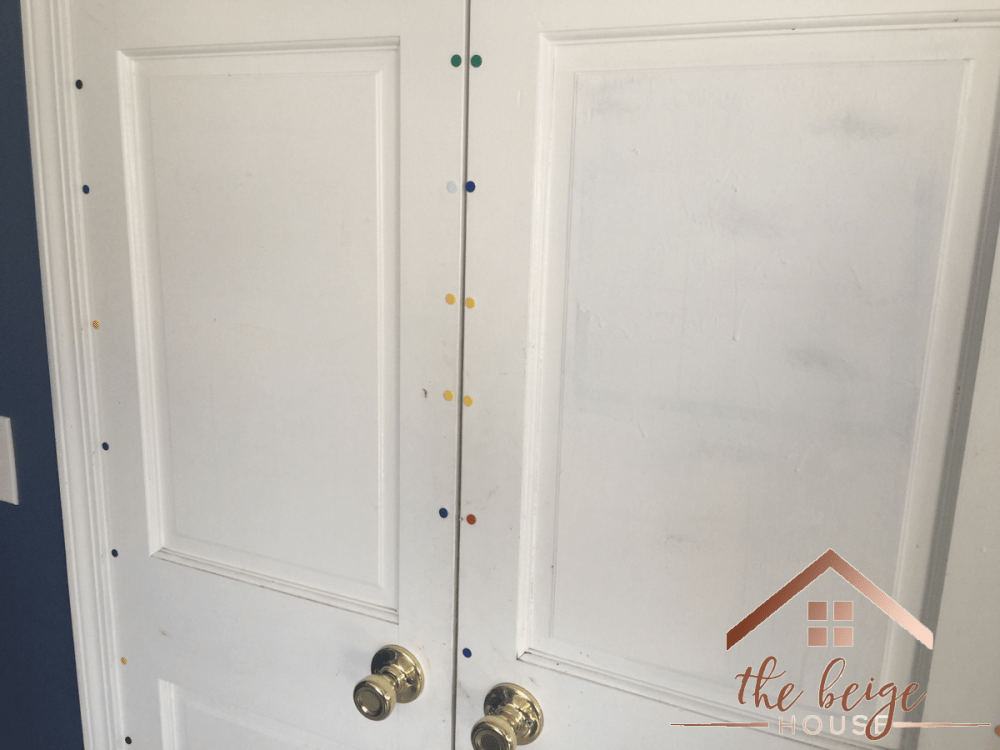 And yes, the doors stayed that way for weeks because I got apathetic. But Dad Week Intensive (more on that later) got my mojo back to finish this project before the One Room Challenge ended.
Step 2: Sanding + Prep
Using my trusty sanding block, I scuffed up the door and push pins so that I could ensure they'd handle paint. After that, I wiped the doors and frames down with a Clorox wipe, got out the painters tape + plastic bags, and got the room ready for painting. (Fun fact: I never get this part right and end up having to clean paint off the floor in at least one area. This project was no exception)
Step 3: Priming + Painting
Let me back up a minute and let you know what led me to believe this crazy project could actually be done: Modern Masters Copper Patina Paint. After I saw a bunch of projects that showcased their metallic paints and patina effects, I felt a little more secure giving this a shot.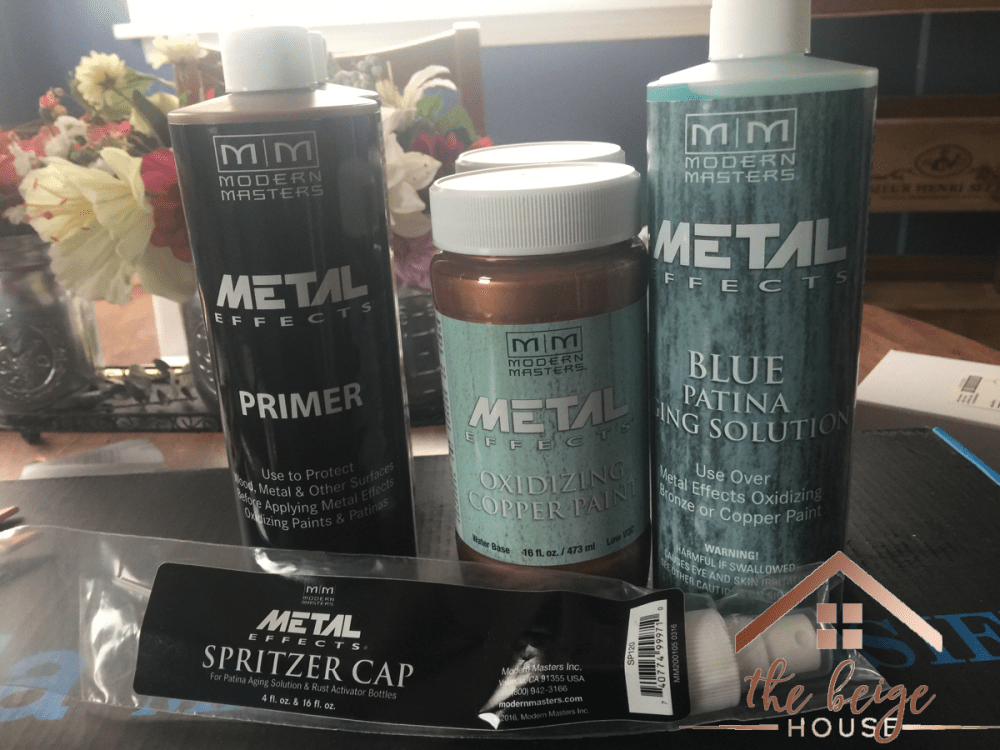 But to hedge my bets, I started with the back of the doors first because I don't care what my washer and dryer have to look at.
For the most part, I followed Modern Masters' directions – which included putting on a coat of primer, giving it half an hour, then going again.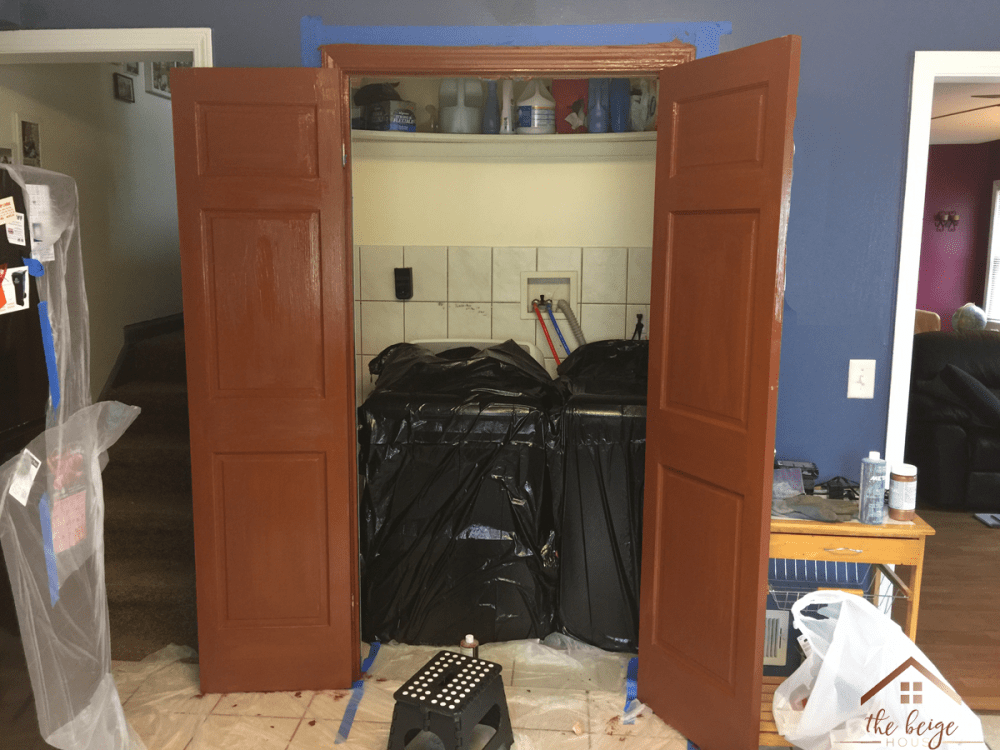 This is where I went a little rock n' roll – their directions say to let the primer dry for 12 hours before applying the copper paint. I lasted 4.
For the record, here's the method I used to paint the doors and I used a brush instead of a foam roller.
I was worried how the streaks might appear, but it ended up adding to the authentic look of the doors, sort of like it was brushed copper.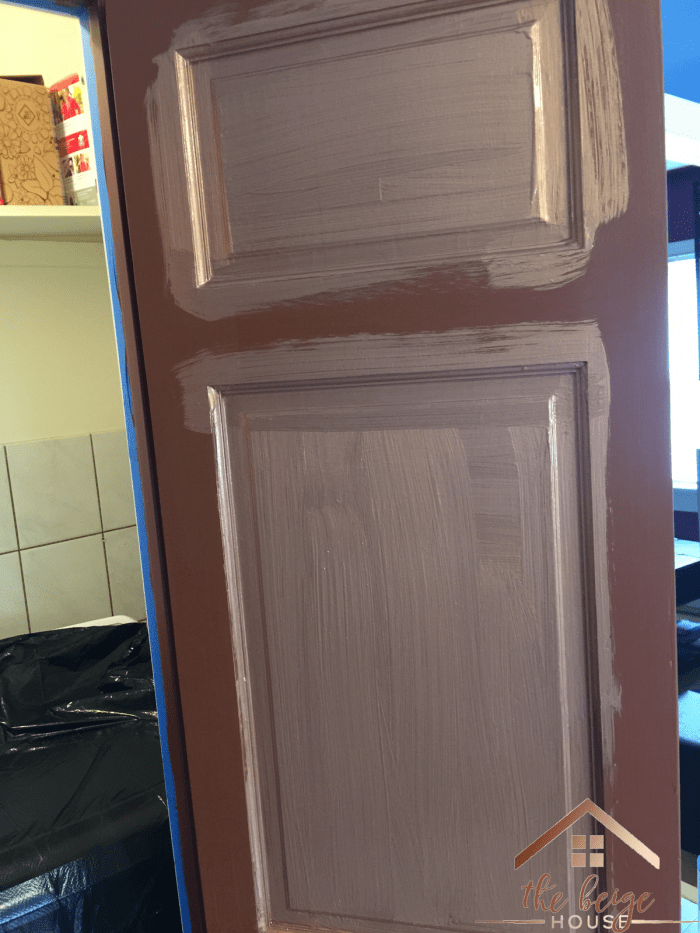 Putting on the first coat
Modern Masters then told me to chill for 1/2 hour, then apply a second coat using the same application method as before. The fun part of this coat, though, is that this is where I get to whip out the patina spray! There are various methods on how you can apply the patina: sea sponge, sprayer bottle, etc. I opted for the included sprayer and went to town.
At first, I was a little worried because I didn't see an immediate change, but after 10 minutes it started to peek out. I then tried to walk away and let it do its thing but ended up sneaking back into the room with my husband and Dad to see the changes.
Here's the first iteration of the doors fully dried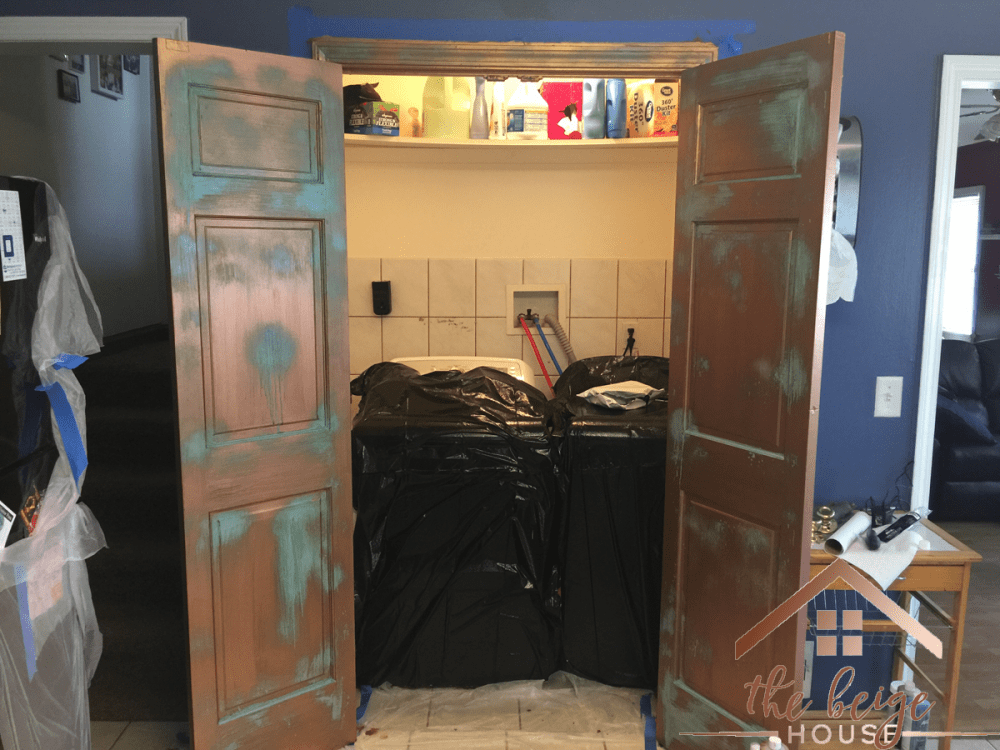 Not too shabby, right? I did go back and touch up the patina (by just painting more copper paint, then spraying it) so it looked less like someone threw a patina paintball at the middle, but overall it was really cool!
Tip: If you decide to give this a shot, spray in a continual motion and not in a direct, point-blank, spritzing fashion.
Now on to the outside!
Priming 1st coat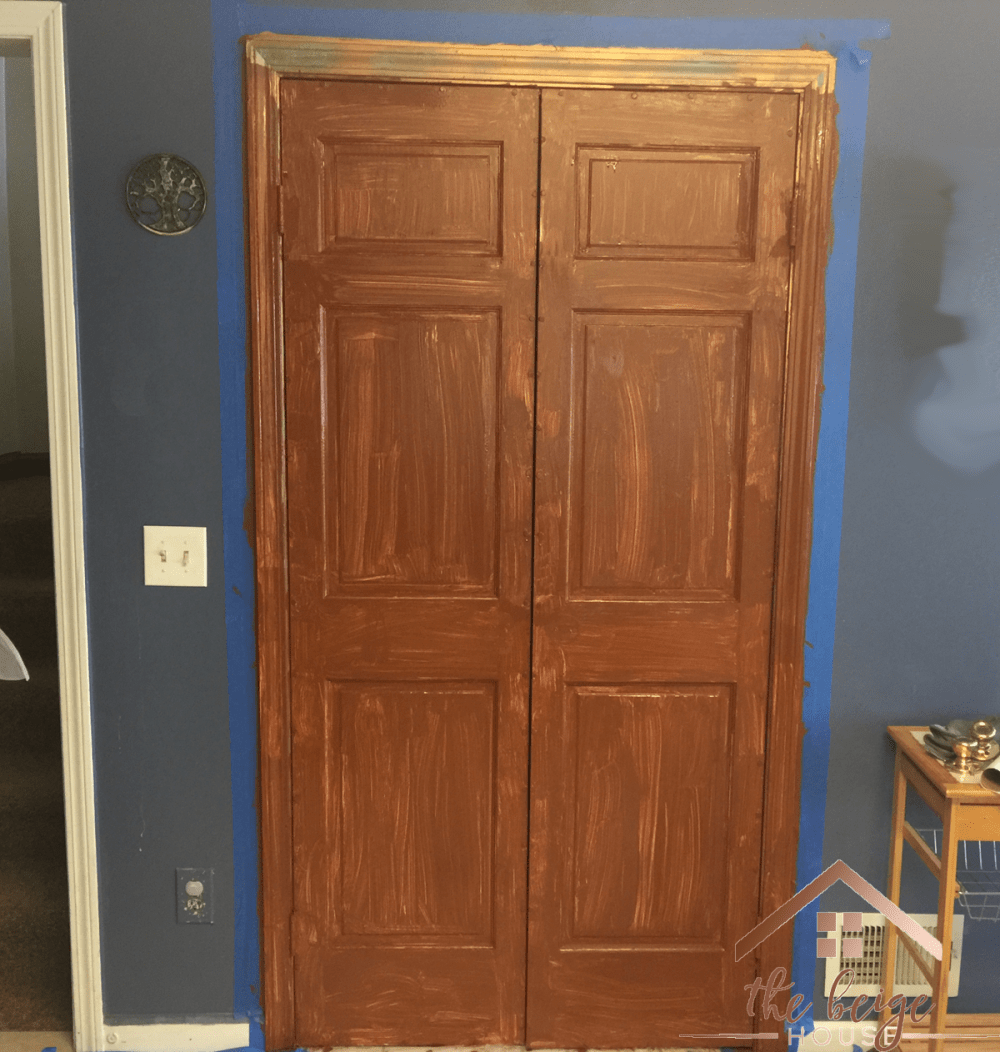 2nd coat of primer (which, by the way, is really pretty on its own – sort of like a redwood paint)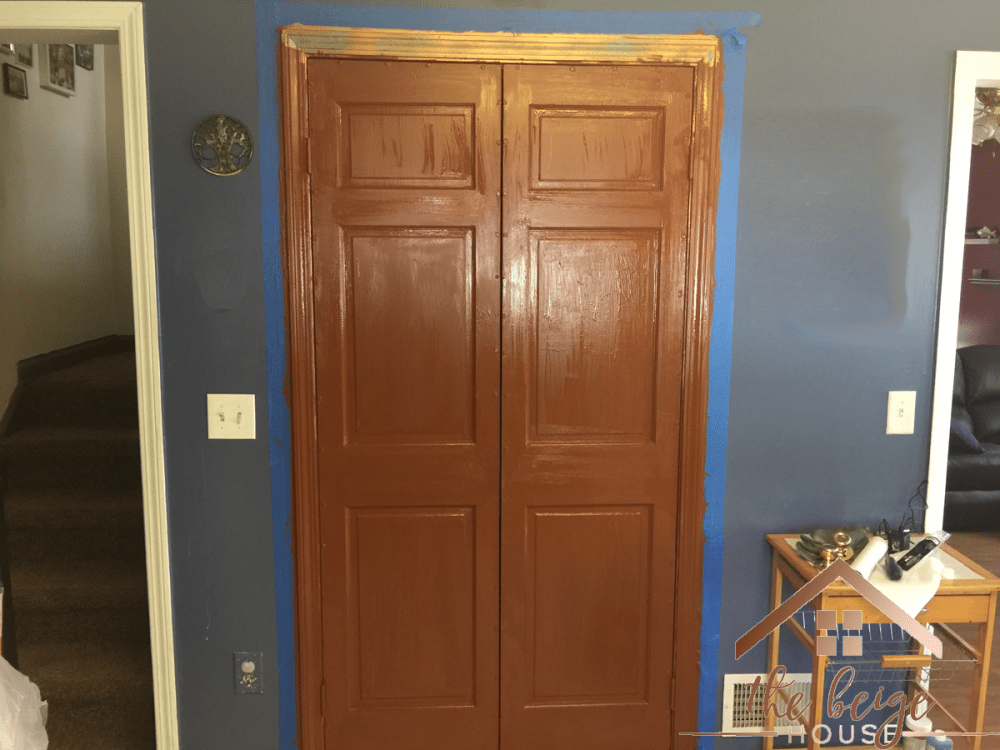 Copper paint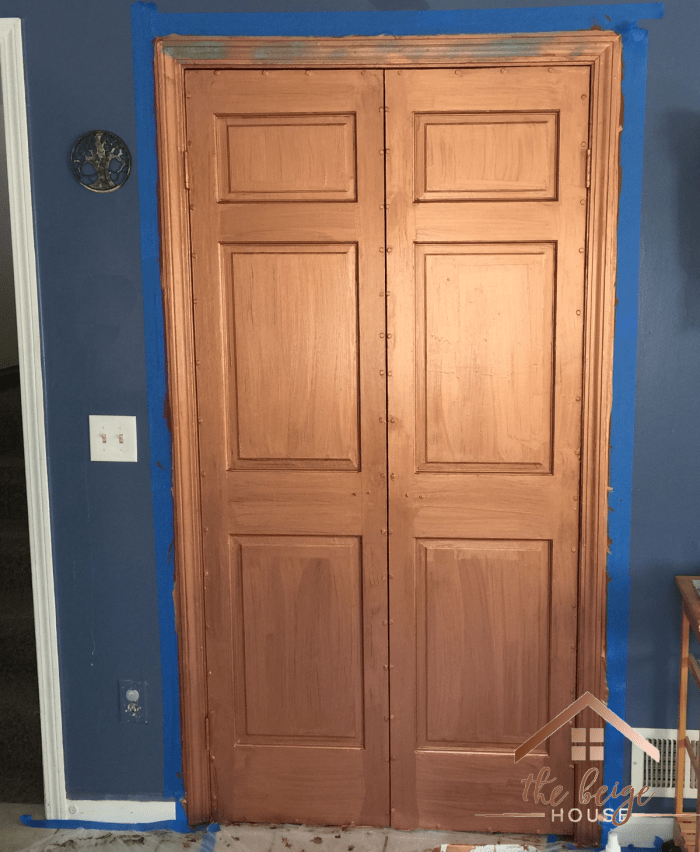 2nd coat with patina spray starting to show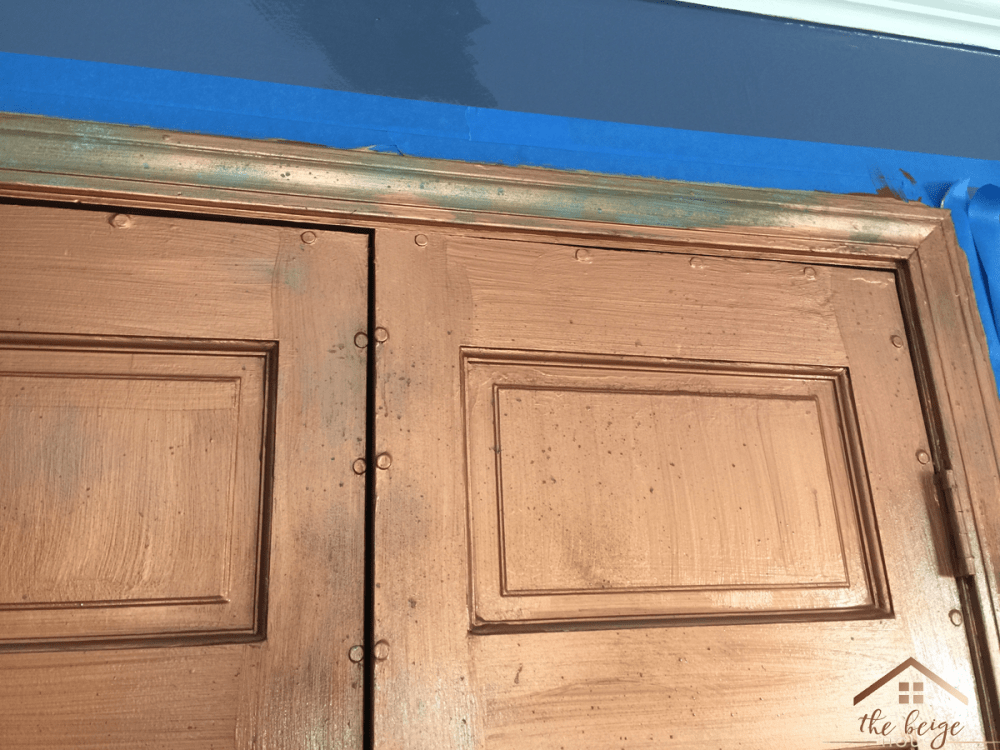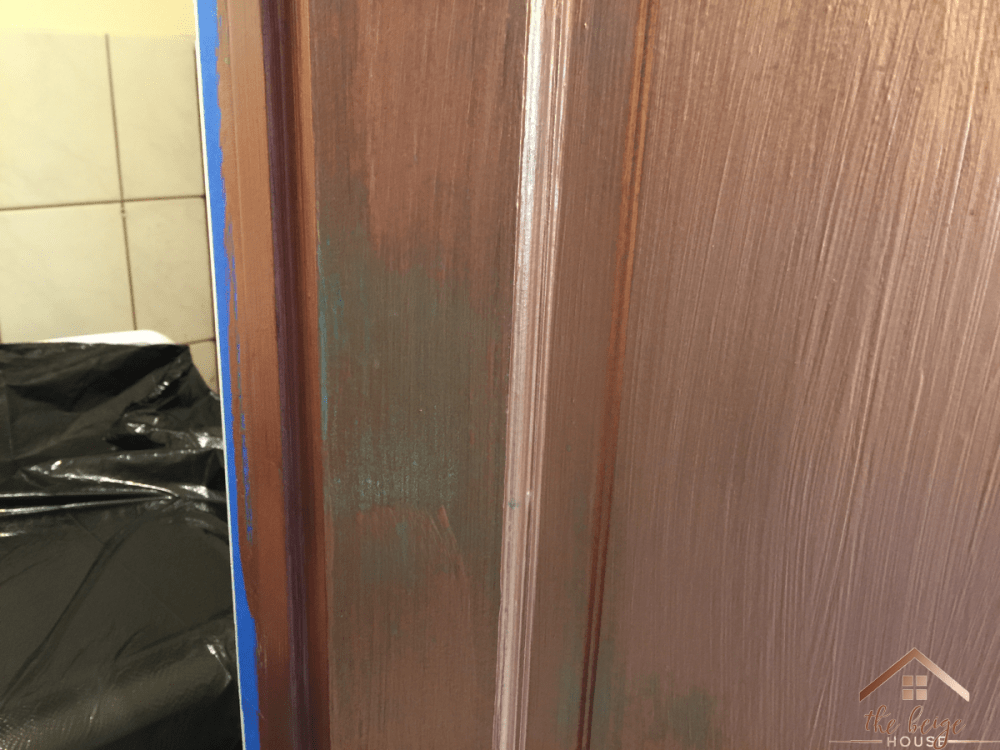 and…done!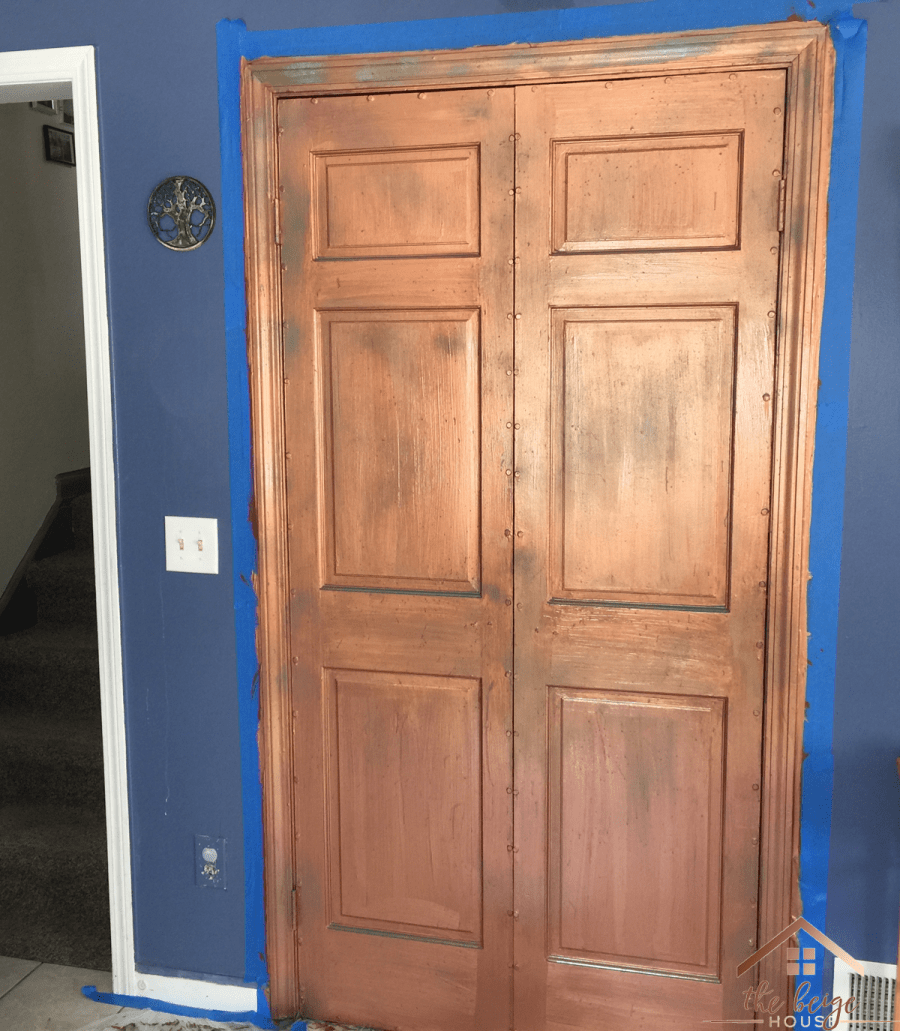 Step 4: Hardware
Last but certainly not least were replacing the dummy handles for the doors. National Hardware helped me out with this by sending some super sweet cabinet pulls that matched the aesthetic I was going for.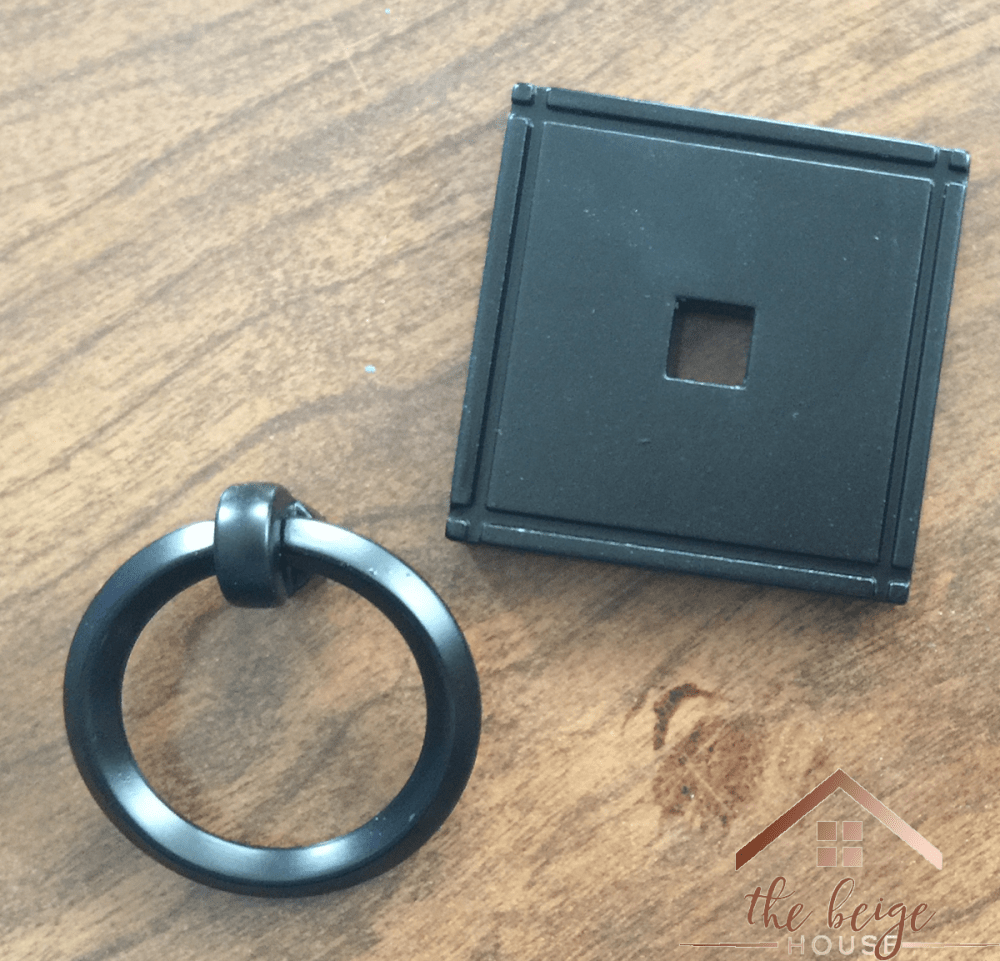 They had the right look but were a bit too shiny and new looking for what I wanted, so I decided to scuff them up a little with my sanding block to make them look a little older and beat up…and that's when I noticed: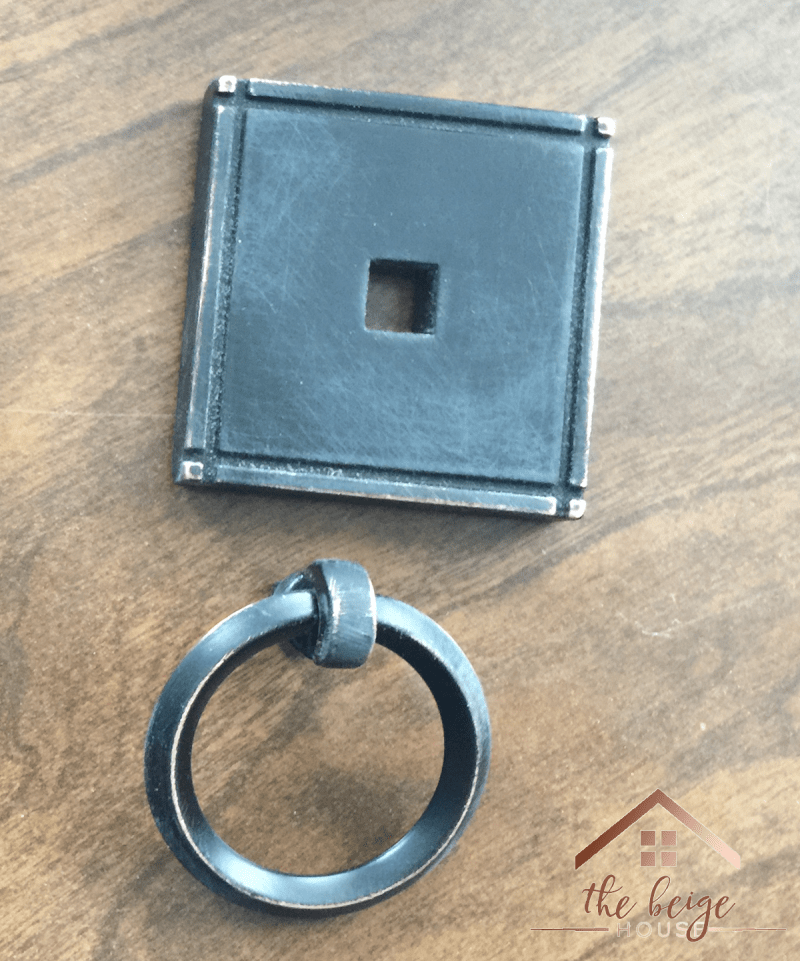 Copper! OMG, it's destiny!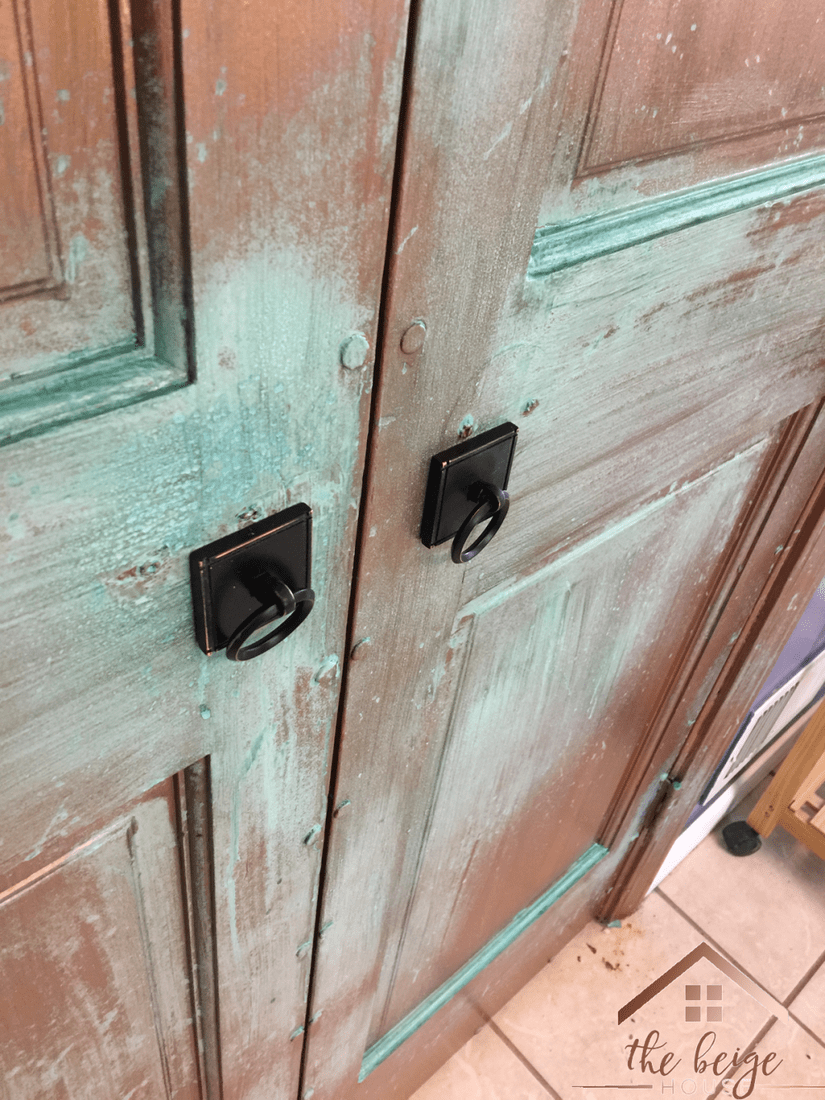 I used my Ryobi drill to drill new holes for the screws (which I had to buy longer ones than the screws that are supplied with the pulls. Just FYI if you pick them up), screwed those puppies on. And voila, my beautiful new focal points of my kitchen!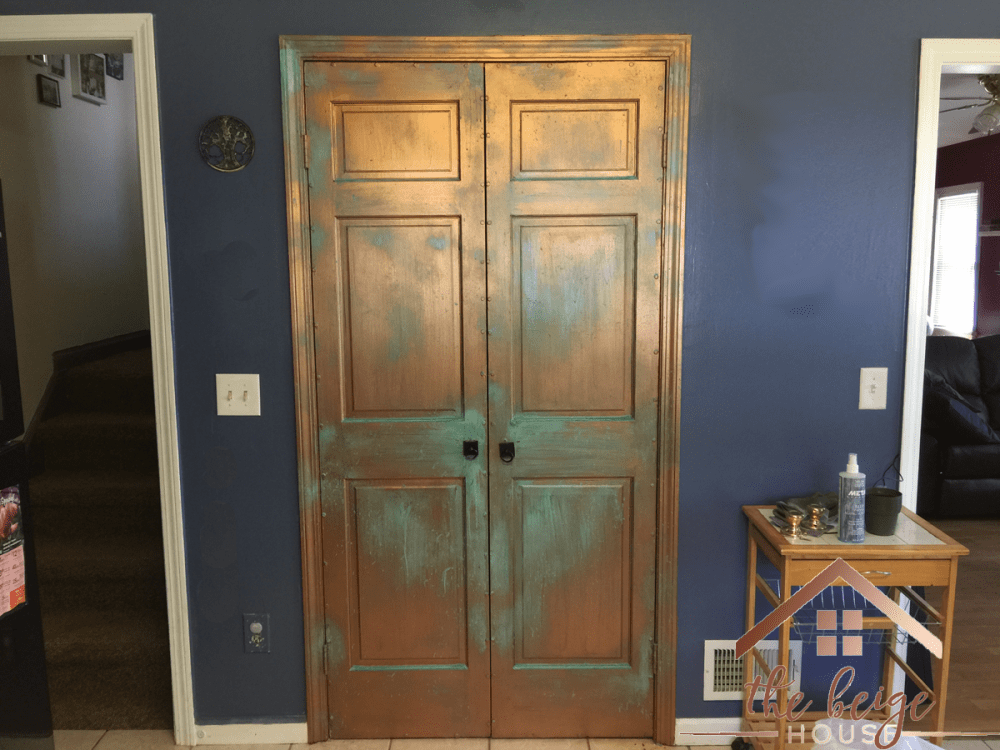 I LOVE LOVE LOVE them (and the Mr. does, too) and wish I hadn't waited so long to get these done!
Quick facts:
The amount of stuff used: