Our house came with incredibly bold colors in the living room and kitchen: a dark raspberry wine color and a deep denim blue. Both of these ended up being a blessing in disguise as they're both colors I would've been completely afraid of doing on my own, especially as a first-time home buyer. So when we moved in, we kept the colors as is.

Well, sort of. 

You see, the previous homeowners, whoever they were (if you're new here: we bought a HUD home that was empty for 5+ years) were very into putting anchors into the walls. Ev.er.y.where. It's like they were holding up kayaks on every GD wall in our living room.

So we tried our best to patch the holes, but of course, there was a problem: since we didn"t know the exact color, we had to guess. I think that even if we got it right, we would've had to take into account years of potential fading. Needless to say, we had spots all over the place.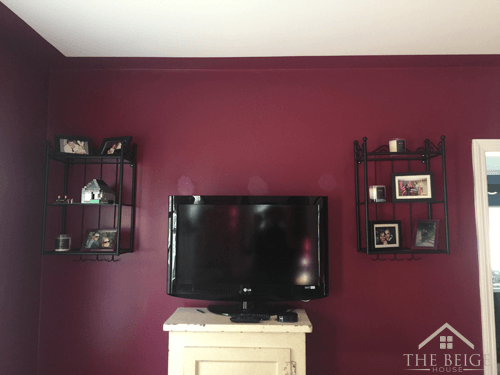 Painting the living room (and kitchen) became one of those tasks I'd "get around to someday." Cut to living here for almost 3 years and seeing the stupid paint splotches every single day and worrying about having "brow furrow" lines in my face because of it.

One of the many many projects in my head that I wanted to complete was to build floating library shelves in the nook between the guest room and the chimney, but I knew it wouldn't be just a  project: if I was going to do it right, I was going to have to get my butt in gear and actually paint the damn living room. Otherwise, I'd have to eventually navigate giant wooden shelves while painting.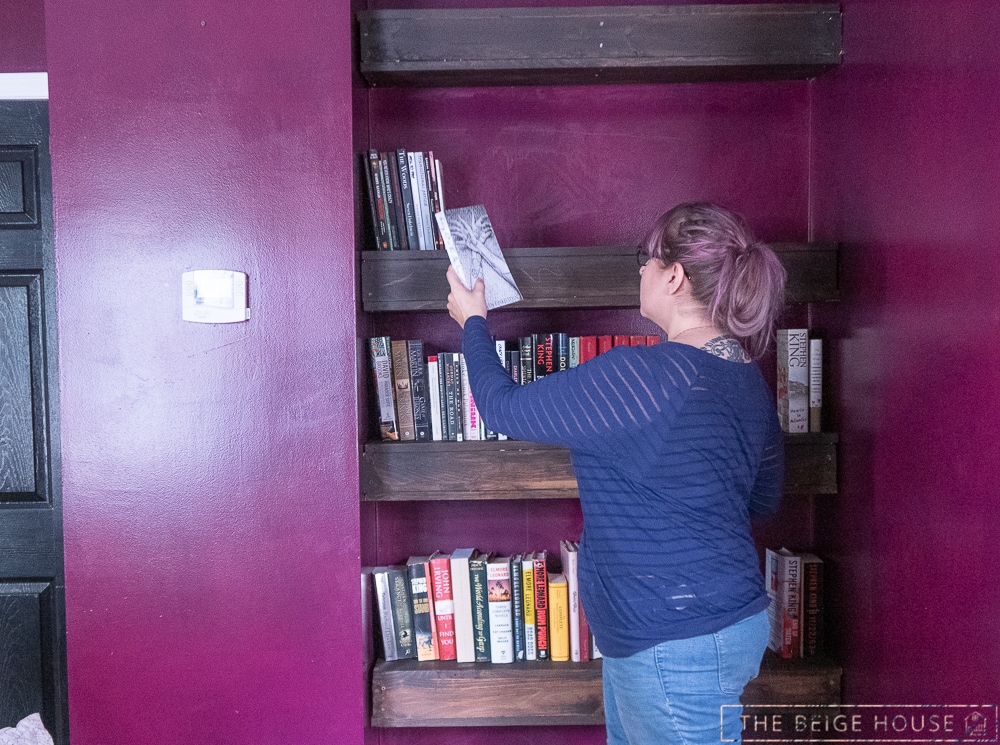 Our Living Room Updates
Getting to work
In the past, I've exclusively used Sherwin Williams for the interior and exterior of our house, but after the heartbreak of our deck, I've poo-pooed them forever. I headed over to Lowe's (mostly as an excuse to hit up their clearance plants [Home Depot, if you ever decide to offer your sad plants on clearance rather than mulching them, I'll live in your stores]) and took a few samples of paint that were close to our original color. 

Side note: I know I could've gone with any color since I was completely redoing the paint job in the living room, but I just really loved the original color so much! 

In the end, I got a few gallons of Valspar in Berry Brown, as it most closely resembled the original paint job (however, it goes on wet in a terrifying shade of pink).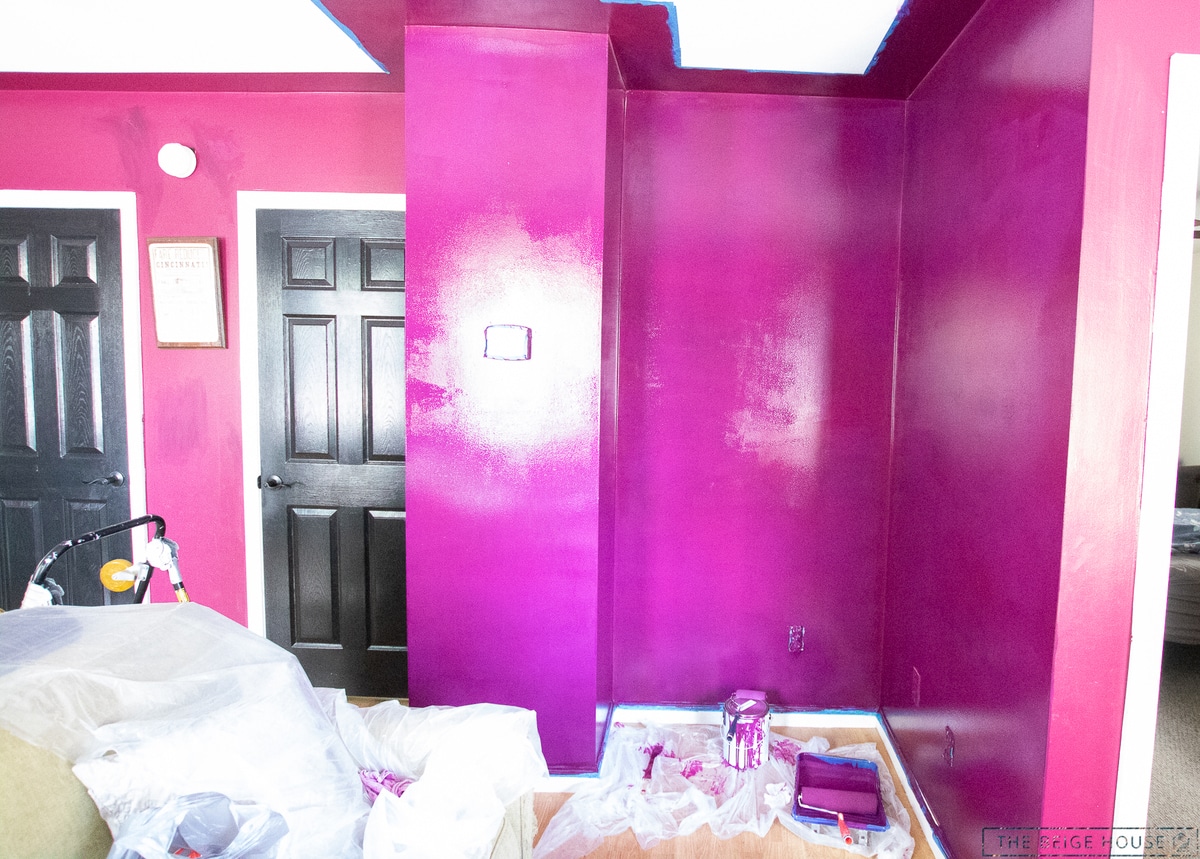 In addition, I got a gallon of Valspar ceiling paint because I might as well go big and get the whole thing done. 

[metaslider id=5024 cssclass=""]
Thus began the enormous task of removing our things from the walls, cleaning the walls, taping the baseboards and ceiling to recreate the border of the original job, spackling and filling holes and a seam in the ceiling, and then painting. 

I decided to paint the walls before the ceiling, mostly due to the thick border already on the ceiling…figuring it would be easier to hide any mess-ups with the berry color with ceiling paint than having to go back over it if I did the ceiling first.

Armed with Becoming… on audiobook, I went to work. Taping took a good few hours, and the walls took two days between patching, letting one coat dry, then reapplying. The ceiling took a day.

In addition…
I also installed cord hiders because our internet cord comes from the basement + our antenna lives on a wall away from the television. It was another thing that made me furrow my brows daily, so I decided to try to hide them. I can still see the cord protectors, even though I've painted over them, but it's just one of those compromises I have to make with my perfectionist tendencies.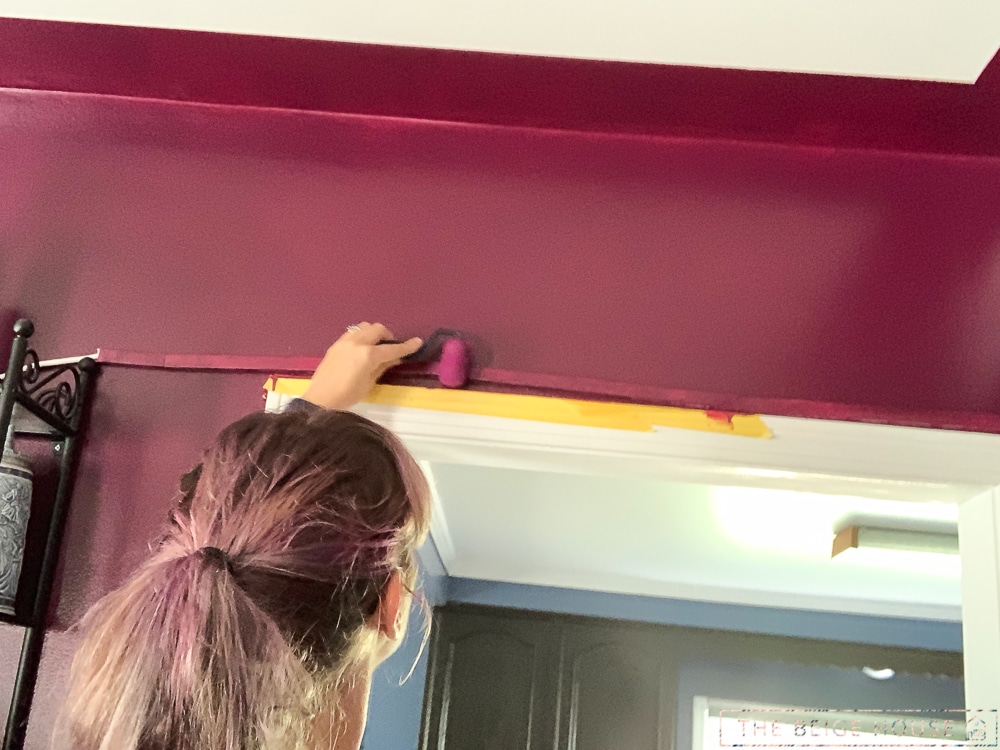 After it was all said and done, the shelves were installed and I had enough paint left over to cover any stain that made its way onto the walls (I made the decision to install the shelves and then stain, rather than the other way around). But now my living room looks so much better and most importantly feels better.

Look at that color against the plants. I mean come on, bliss!