I've been him-hawing over this post for 3+ years now, as I'm not entirely sure where it's going to go. Let me start by talking about our purple bedroom and then get into why I want a change.
First off, here is our bedroom:
My original plan was to create a calm room with dreamy purples, grays, and silvers. I ended up using 3 coats of Sherwin Williams "Forget-Me-Not" for the walls and Sherwin Williams "Special Gray" for the trim. In my head, it looked super cozy and calm. Perfect for pulling the thick gray velvet drapes closed and nuzzling in our bed.
However, I feel like I didn't nail it. The purple bedroom in my head hasn't really come to fruition and I can't entirely place my finger on why. Sometimes I think it is the hue of purple. And that I should've looked for a purple that had a blue/gray tinge to it. 
Other times, I think it was the trim and how it feels like that gray was just too severe. And then other times, I feel like the Edison light bulb chandelier is probably throwing off too much warm light to make it all work in our small space (my country for a cathedral ceiling!).
What I Plan to Do with Our Purple Bedroom
In the timeless words of The Rolling Stones, "Paint it black, black as night…" Unfortunately, I've lost the original inspiration pic to the dregs of Pinterest. But here is something similar to what I plan to do: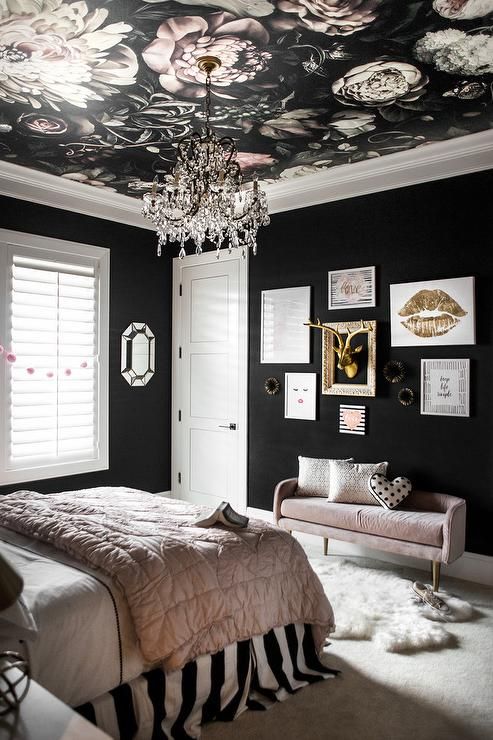 Stunning, right? I love the idea behind it and the floral accents. My thinking is that I'll do an eggshell-finish black for the walls and a high gloss black. Possibly lacquer for the trim to help bounce some light around.
For the ceiling, I think I'm going to use this wallpaper from Amazon and run two rows, one on either side.
I'm also going to retool our bedding a little and add some jewel-tone colors though I haven't entirely decided on royal purple, royal blue, or emerald green. 
Black to me feels like a BIG gamble in a room like this. Will it feel boxed in? Can I actually learn how to wallpaper a ceiling without having to stare at my mistakes every morning? What is the room feels like it is boiling in the summer with Steve's giant TV (I had no say in that one) and our tiny window? 
The good thing about paint, though, is that if it's terrible you can just paint it again! This might be a project I tackle this year, it depends on how the whole COVID-19 situation ends up going. 
What are your thoughts? Would you do a black bedroom?