I have a suspicion that the upstairs bathroom in the house was a former closet due to it's teeny tiny size. It's so small, in fact, that I can't get a full picture of the room: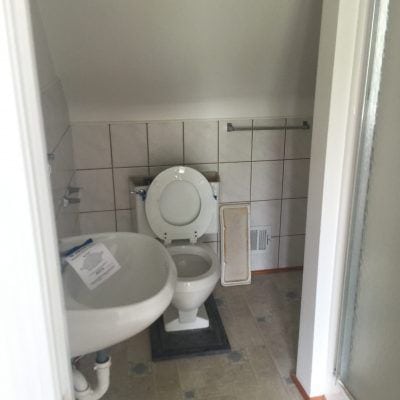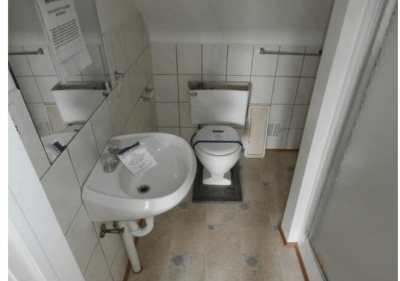 The smallness of this bathroom is going to be its saving grace to me, because I plan to really rehab this into a dramatic bathroom. By painting it bold colors, I know that it won't make the room feel bigger, but it'll definitely have a statement behind it. Also, I'm hopeful that someday we'll be able to built it out into a bigger bathroom, but that's a few years down the road.
Challenges:
Angled ceilings
Tiny Space
No Window
Tile-a-palooza
No storage
My inspiration:
My Plans:
Rip out tile
Install baseboard
Paint door black to match other doors on 2nd floor
New handle for door
Add shelf and cabinet to sink
Paint walls deep blue and use crinkle method to give a leather look
Replace flooring
Research plants that don't need direct sunlight (or use fake plants)
Use plants on ledge above shower
New mirror or add frame around current mirror
Install ledge and cabinet under pedestal sink
My shopping list:
I have no idea about the light fixtures…suggestions?