My office is presumably a former kids bedroom, complete with BMX-style wallpaper and orange walls. Behold: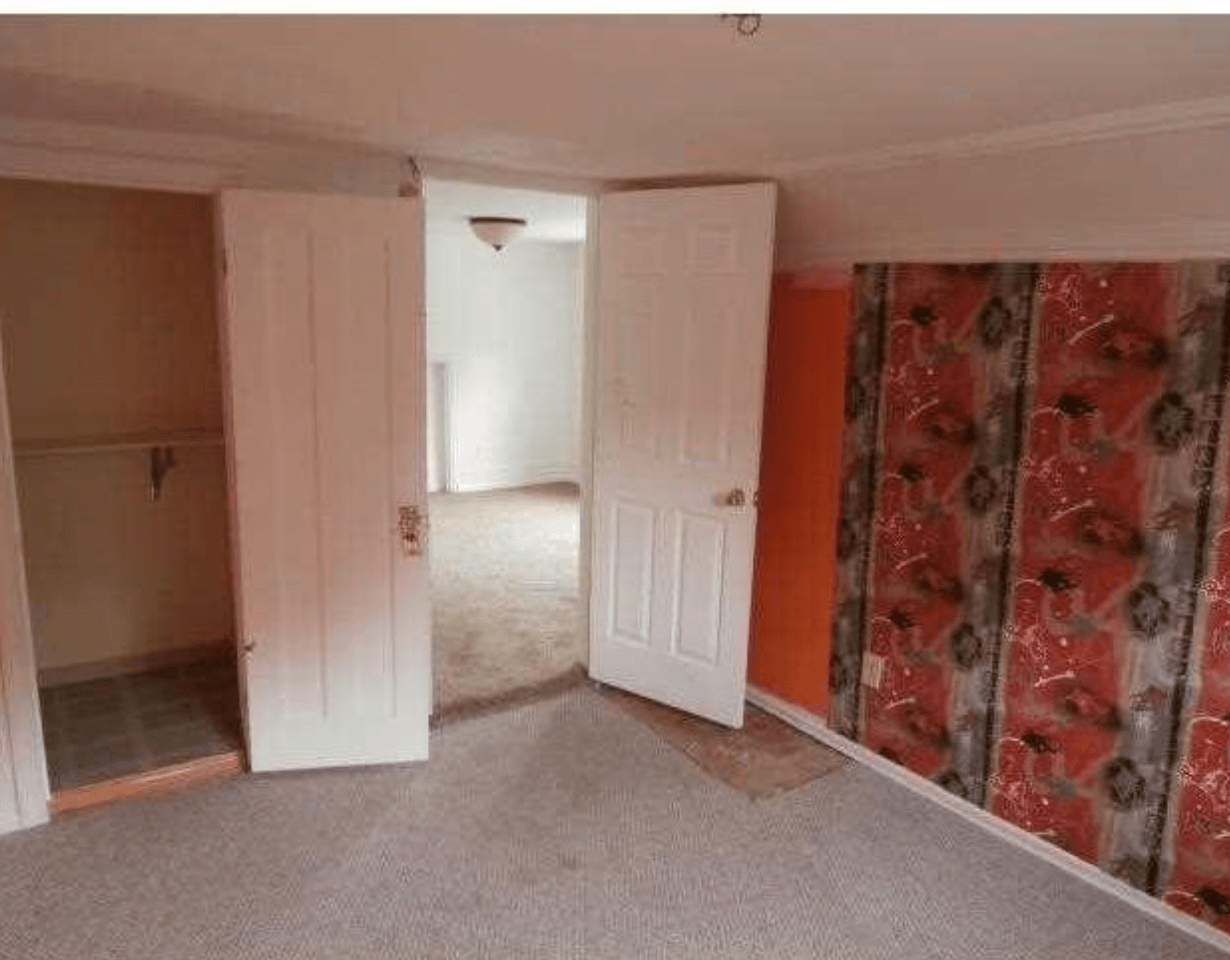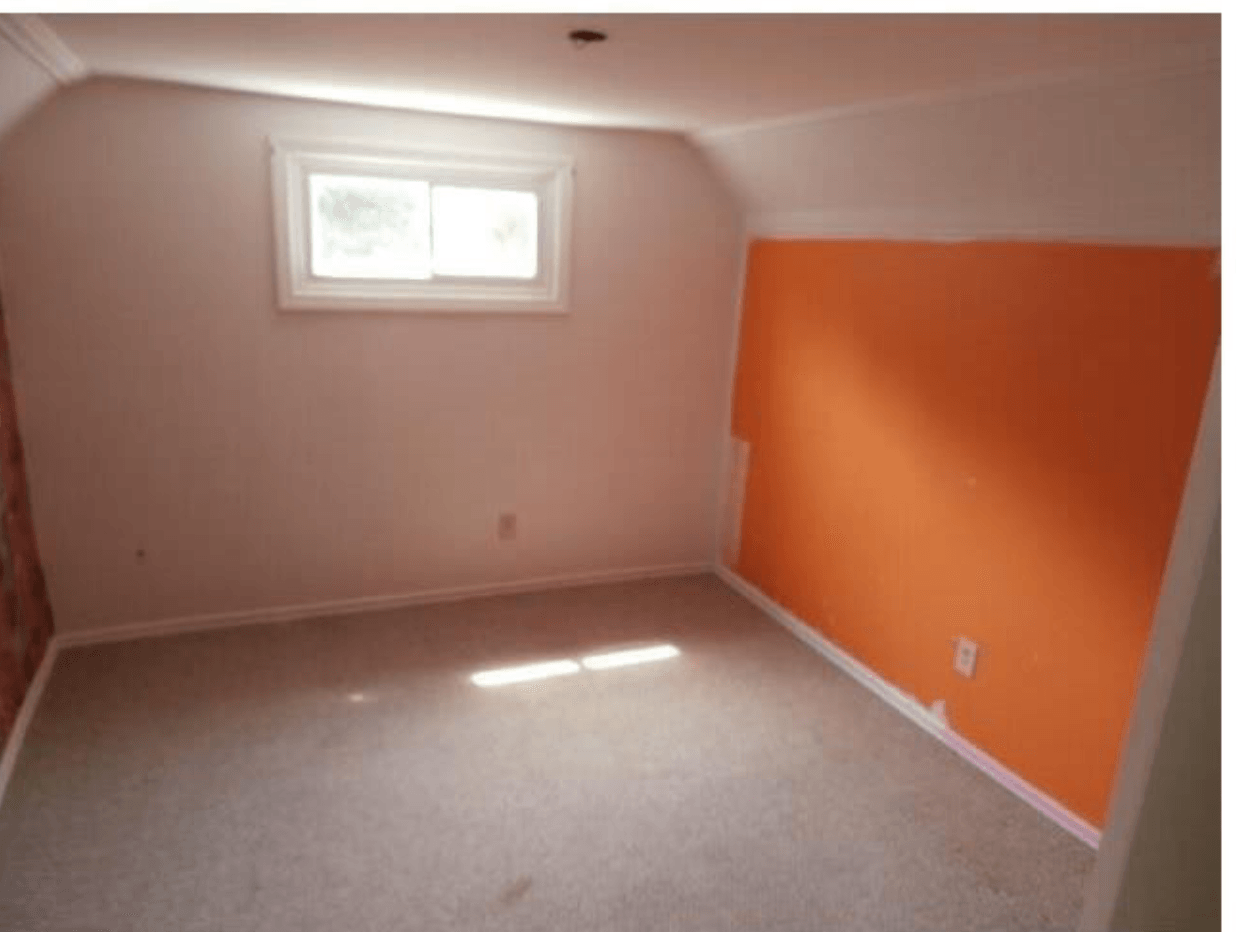 Since I'll be spending the majority of my time working in here (self-employed life) I have a few goals for this room:
White and plain, so my OCD brain isn't distracted and so more light is reflected in the room
Rose gold accents
Chaise lounge for video/talking head updates (and also recouping, let's be real here)
Turn closet into storage
Actually get to create a secret room (closet) with a bookcase
Challenges:
Angled ceilings
Orange painted walls
Wallpaper
Messed up carpet with giant cut taken out of it
No light fixture
Tiny window
My inspiration:
If you need a little desk inspiration/drool session, check out my office desk round up
ummmm BRILLIANT. I didn't even think of increasing the "size" of my tiny window. Now that's the first thing I want to do!
My Plans:
Rip out crappy carpet, paint subfloor. Eventually add hardwood planks and rug
Rip out wallpaper
Paint over orange wall
Install light fixture
Install curtains
Create "hidden" closet with bookcase
Spray paint desk with rose gold accents
Maybe paint my current leather desk chair? I feel like the black will just clash with everything. TBD.
Paint door black
Add new door handle
My shopping list: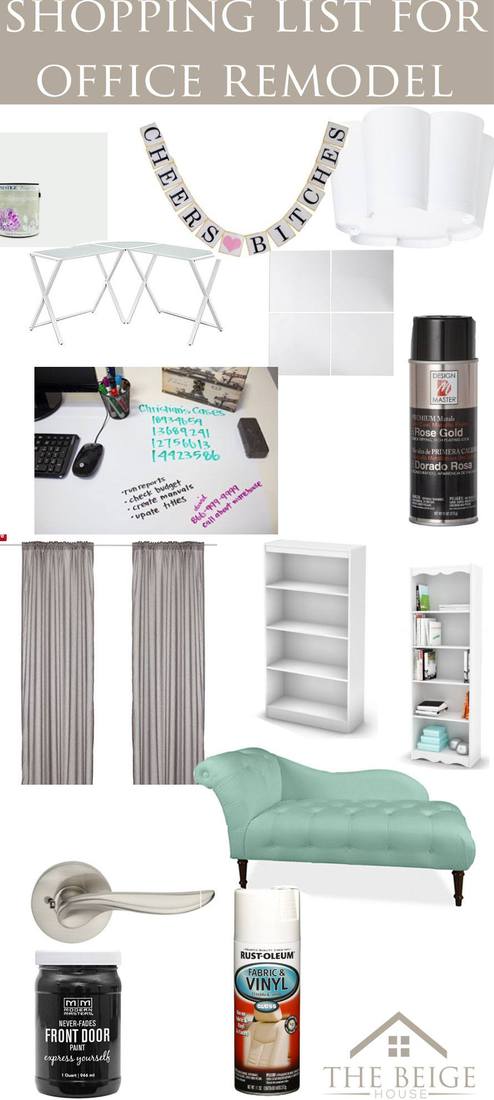 Design Master Premium Metallic Spray Paint, 11-Ounce, Rose Gold $13.49
IKEA Lots Mirror Set $8.99
IKEA Vivan Curtains (Gray) $9.99
WE Furniture Glass Metal Corner Computer Desk $99.99
South Shore Axess Collection 4-Shelf Bookcase, Pure White $55
Sonax Hawthorn 72-Inch Tall Bookcase, Frost White $128.10
IKEA LYSBOJ Ceiling Lamp $7.99
Blissliving Home, Ashley Citron Collection, Interior Paint and Primer In One, 1-Gallon, Satin, Signature White $44.95
Cheers Bitches bunting $6.99
Bradbury Velvet Tufted One-Arm Settee $699
Rust-Oleum 248922 Automotive 11-Ounce Vinyl and Fabric Spray Paint (for chair) $3.45
Fortessa ACHILLES Series Contemporary Design Door Lever / Door Handle with Satin Nickel Finish (Privacy Lock) $36.99
Modern Masters 275266 Satin Front Door Paint, 1 quart, Elegant $34.95 (door)
Dry Erase Wall Decal (for desk) $19.99