Currently, I'm sitting in my living room writing this post (for some reason, I get way more writing done sitting down here with my iPad than I do in my office. You know…the room that's solely dedicated for doing business stuff? Sigh.) and before I began to write, I looked around the room to see how much of my stuff we bought new.

I see 8 things: the sofa, coffee table, dog kennel, IKEA shelves, Roku, SmartThings, Blink hub, and our TV.

Everything else in my line of sight (including the dog!) was purchased used or sourced on the street back in Brooklyn. (Moving out days in nearby apartment buildings were the BEST.)

If that sounds gross to you, this is probably not the blog post you'll want to read. If however, you're intrigued by what I'm getting towards, let's continue.

Home Decor Shopping Tips at Thrift Stores
I'm not sure if I've said it here before, but if not: one of the biggest perks of living in Upstate NY is the ridiculous finds I've come across at thrift stores around here. I mention Upstate NY specifically because I have a theory about why I've gotten so many goodies for cheap:
Older people get sick of the snow and leave here for Florida. But they can only take so much with them so they end up donating a bunch of stuff.

Granted, I have no statistical data to back this up. But the fact that I can run a business based on the amount of Pink Depression Glass I've found here leads me to believe that thrift stores around here are gems.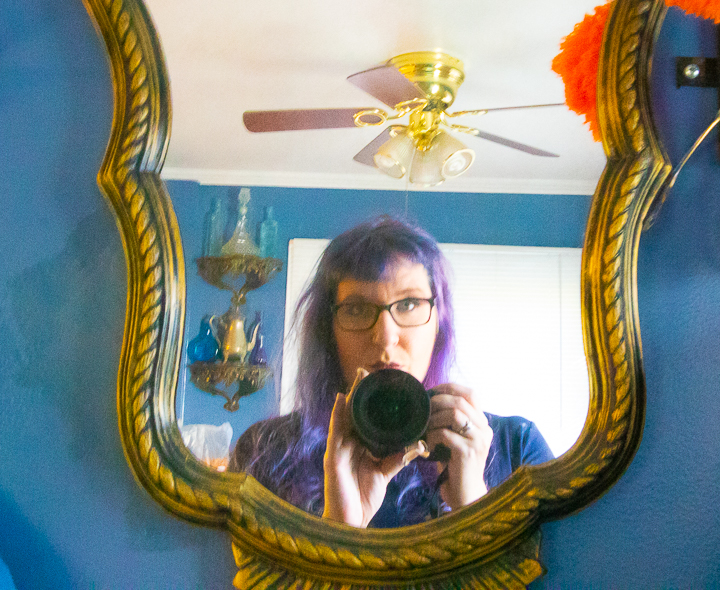 But what if you're not looking to begin a vintage business, is there a point to shopping and seeking out second-hand stores for your home decor? ABSOLUTELY. Here are some of my favorite things to look for in thrift stores when it comes to shopping for our home decor:

1. Furniture
Don't get skeeved out just yet, hear me out! You can find some amazing accent chairs, coffee tables, desks, and more. We got a giant round pedestal dining table at Goodwill for $10! It was our first thrifted furniture that we bought when we moved into our home. And I was sure they had mispriced it. Nope, they were more than happy to sell it for pennies on the dollar. If you're worried about bugs, I'd recommend leaving things in a garage or outside if you can for a few days to observe them. We've also invested in a hand steamer to help us when we bought our club chairs. (We got a pair for $15!)
2. Shelves
I've had to stop going near the "wood" section because I kept picking up wall shelves. Now that we're pretty much out of space that could be used for more shelving, I've had to stop, but it seems like I was always able to score floating shelves or scroll shelves so easily.
3. Baskets
I'm not a huge basket person, but I've picked a few up to use for DIY projects (like my pumpkin display) or to hold towels in. I've seen a bunch of Longaberger baskets which I know are popular. Keep an eye out!
4. Fake flowers
If you're into using flowers as part of your decor then look no further than thrift stores. They're usually just a few dollars for some really lovely displays and hold up way better than the ones from dollar stores
5. Wreaths
We will never buy a full-priced wreath ever again. Steve has become the Curator of Wreaths here and makes it a point to switch out our front door wreath depending on the season. These are usually less than $5 at our thrift stores around here. And there seems to always be a giant stock to pick through.
6. Art
Pictures, too. I have anxiety about art as I never know what I like and if I'll like it enough to hang it on my walls, so this isn't really my forte, but I've seen SO many paintings at Goodwill and Savers that I know there are some hidden gems there.
7. Frames
Along those lines, we've sourced some incredible picture frames, some of them even sterling silver!
8. Books
Goes without saying, I guess, and maybe this isn't really a decor item, but between thrift stores and the library, I rarely buy new books. If you like to use groups of books in the same color (like this), then save yourself a ton of money and pick up some used books instead of new.
9. Candles and Candle Holders
It amazes me how many brand new candles end up at Goodwill, especially because they can get SO spendy! Check out this candle I got at Goodwill for $7 that was brand new and matched our walls.
10. Mirrors
As I've posted on my Instagram, I will horde thrifted mirrors for as long as I live. After seeing the crazy prices of a new mirror as compared to the $3 I've spent per mirror at a thrift store, I don't know that I could justify paying full price ever again. There is one exception, though, if I'm being honest with you: I can't help but covet this full-length mirror from Anthropologie.
11. Planters
Big pots, small pots, plant stands…basically everything but the plant and soil can be found for cheap! 
12. Blankets
I think I maybe draw the line at buying sheets, but blankets for me are a different story. Look at this quilt I got at savers for $25 (which was way more than I would normally spend, but I loved it too much to let it go). The same rules apply here that does for furniture: let it sit somewhere in quarantine for a while and then invoke the power of hot soapy water via your washer to ensure it's safe to use.
13. Wall Clocks
Most of the wall clocks (I think we have 3?) in our home needed nothing but a new battery when we got them used. I've had hit-or-miss luck when it comes to alarm clocks (but it's because I looked specifically for vintage, and it turns out…vintage electric clocks are WAY too loud).
14. Lamps
I've mostly stuck to small desk lamps, but I always see floor lamps at Goodwill. As a tip, look around to see if there are power outlets somewhere to test it out. Most stores will let you try or will have a row of power strips available (your mileage with finding a working light bulb in the store will vary).
Anything I've missed? Let me know in the comments!